Rolling thunder portends remote eruptions
by Mary Caperton Morton Tuesday, June 5, 2018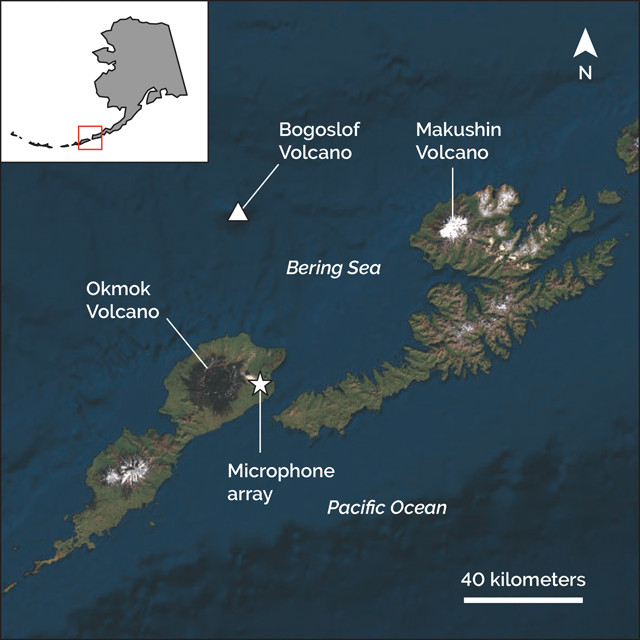 The logistics of monitoring volcanoes located in remote regions, such as Alaska's Fox Islands, can be prohibitive — but monitoring is necessary, as ash clouds billowing from even far-flung volcanoes can make their way into airplane flight paths. Researchers are now proposing an acoustic warning system to detect volcanic ash clouds that would rely on listening for the thunderclaps that often herald these eruptions.
Large, high-ash volcanic eruptions are frequently accompanied by impressive thunder and lightning displays sparked by friction between flying ash particles. Scientists discovered that the thunderous booms can be detected up to 100 kilometers away using an existing global network of very-low-frequency-detecting radio stations.
In a new study, Matthew Haney, of the Alaska Volcano Observatory in Anchorage, and colleagues detected volcanic thunder from two eruptions of Bogoslof Volcano — a predominantly submarine stratovolcano that breaches the ocean surface west of Alaska's Aleutian Islands — using a radio station 60 kilometers away.
In addition to providing a remote means for detecting eruptions, listening to bouts of volcanic thunder may also shed light on the dynamics of volcano plume evolution, since thunder is thought to occur mainly in the later eruptive stages of plume development, the team wrote in Geophysical Research Letters.