Restarting U.S. rare earth production?
by Harvey Leifert Thursday, January 5, 2012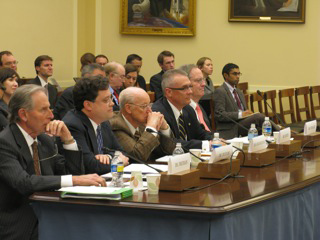 Rare earth minerals are not actually rare, but if China has anything to say about it, they may become scarce in the near future, experts say. And that could pose real problems for the U.S.' high-tech industries that rely on the metals, including everything from hybrid cars to renewable energy to computers and mobile phones. But in March, rare earth experts testifying before the U.S. House of Representatives said that there is a way to avoid this potential shortage: Reopen a long-idle U.S. mine.
Mark A. Smith, CEO of Molycorp Minerals LLC, Karl A. Gschneidner Jr., a metallurgist at Iowa State University and Ames National Laboratory, and other experts in the rare earths field were called to testify at a hearing on the threat of a rare earth supply shortage before the U.S. House Science and Technology Subcommittee on Investigations and Oversight. The experts told the subcommittee that the United States has a mine — Molycorp's Mountain Pass mine in California — that could provide more than enough rare earths to meet U.S. demand. Money and education are both barriers to redeveloping the U.S. rare earth industry, but the federal government can help, they said, by encouraging uneasy lenders to provide the necessary funds for the mine to reopen, and by creating a dedicated research center in the United States to study rare earths and attract new scientists to the field.
The rare earth elements are the 15 nonferrous metals from lanthanide through lutetium, numbered 57 to 71 in the periodic table, plus scandium and yttrium. These elements are found in minerals across the planet: A fistful of garden dirt will likely yield some rare earths, Smith said. The true rarity is finding high enough concentrations of these elements to mine them economically. Such deposits are known to exist in just three places, though others may eventually be developed: Inner Mongolia, China, Mount Weld, Australia, and Mountain Pass, Calif.
For the last eight years, China has had a near monopoly on rare earth production. The country produces between 90 and 97 percent of the world's rare earths. Its mines at Baotou, Inner Mongolia, are in full production. There is currently no infrastructure at the Australia site (though an initial phase of mining was started two years ago). The United States has not produced any rare earths since 2002, when the Mountain Pass mine shut its doors due to an economically unfriendly market, the result of both environmental issues in California and competition with China, whose burgeoning production of rare earths drove prices for the minerals down, Smith said. Molycorp Minerals, based in Colorado, bought both the mine and associated production facilities in 2008.
The issue of a possible rare earth shortage arose last year, when China announced that to meet its own growing demand for the minerals, it would restrict certain rare earths from entering the global market. And world demand could exceed Chinese supply as early as this year, Smith said. China has since backed off of its restrictive exportation stance, but is encouraging end-users of rare earths to set up manufacturing facilities in China, creating jobs there. The assumption, Smith and others told Congress, is that if shortages occur as global demand increases for rare earths, China will favor these companies over others that are abroad — and thus the United States could be left in the cold.
If Molycorp could reopen its Mountain Pass Mine, Smith testified, the company could produce 20,000 tons of rare earth oxides per year — enough to supply a third of the gap between China's production and global demand. Furthermore, Smith said, the company is positioned for "downstream" production all the way to the manufacture of magnets for use in wind turbines, work that would otherwise have to be outsourced to Asia. He envisages that 900 jobs would be created in the Mountain Pass area. He expressed confidence that the company can compete with the Chinese, thanks to superior and environmentally friendly technologies developed at Mountain Pass that can produce rare earths from half the tonnage of raw ore needed in the past, using 96 percent less water and half the electricity.
But to restart its mining and manufacturing operations, Molycorp needs help. First, Smith said, they need funds — funds that banks have been unwilling to lend, given the global economic downturn, he said. To meet their needs, Molycorp has applied for loan guarantees through the Department of Energy's (DOE) Loan Guarantee Program, which offers longer-term financing and lower interest rates than traditional banks. But DOE has rejected Molycorp's application, saying that mining operations do not qualify for loan guarantees. Smith disagreed with that assessment, and called on Congress to adopt language that would clarify Molycorp's eligibility for the guarantees.
Second, Smith testified, the federal government should aid in recapturing America's onetime lead in rare earth knowledge and infrastructure. He told the subcommittee that all of the 17 researchers and technologists at Molycorp are self-taught with regard to rare earths. They in fact invented the green technology for a revitalized Mountain Pass mine, he said, but many more such minds are needed, both at Mountain Pass and in other U.S. industries that rely on rare earths.
Gschneidner, sometimes called "Mr. Rare Earths," agreed that America should reinvest in rare earth research and development. He told the subcommittee that China's flooding of the world rare earth market in the 1990s caused industries in the United States and elsewhere to shut down, and their technical experts migrated to other fields, leaving an "intellectual vacuum" today.
Gschneidner advocated for federal start-up funding for a National Research Center on Rare Earths and Energy, to function as a resource for rare earth science, technology and applications. In time, industry would also provide funding, as might state governments, he said. The center's major emphasis would be goal-oriented basic research, and it would provide support to universities, national laboratories and other research institutions.
Subcommittee chair Rep. Brad Miller, D-N.C., agreed, saying we cannot succeed unless Smith and others like him succeed.
Immediately following the hearing, Rep. Mike Coffman, R-Colo., in whose district Molycorp is headquartered, introduced the Rare Earths Supply-Chain Technology and Resources Transformation Act of 2010, or RESTART. Its goal is to revitalize the rare earth industry in the United States through various assessments and special programs. "Our national security depends on it," he said in a written statement.