Peak's appeal - and hazard - endures today
by Julia Rosen Monday, March 9, 2015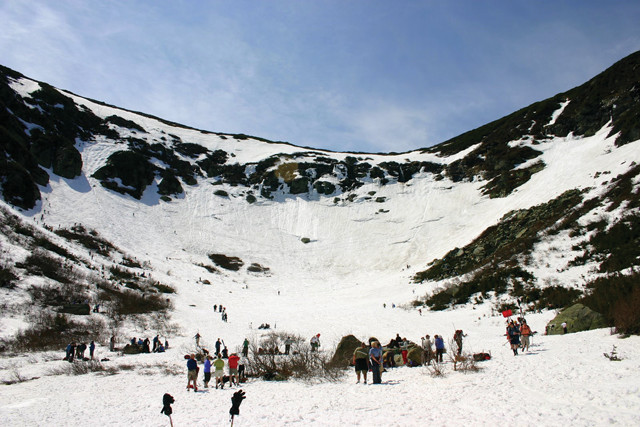 Despite the bad weather, or perhaps because of it, more than 250,000 visitors flock to Mount Washington each year. It has been a popular tourist destination since the 1850s, when hotels first sprung up on the summit (with their roofs chained to the ground). Some also claim the footpath to the top — the Crawford Path — is the oldest hiking trail in the country.
Now, most visitors arrive by car and rail, although many still come on foot, particularly in the spring, when thousands of adventurous skiers congregate on the mountain's southeast flanks. They come to Tuckerman Ravine for an annual spring ritual: hiking up and hurtling down the steep glacial cirque, which offers some of the most extreme terrain east of the Rockies.
Still, the harsh weather often takes visitors by surprise. The Presidential Range has claimed about 150 lives since rangers at Mount Washington State Park started keeping track. Most fatalities occur in winter conditions, when a sudden change in the weather can be lethal.
"You can be in North Conway (N.H.)" — the closest town — "sipping coffee, and a few hours later find yourself in polar conditions," says Alison Criscitiello, a glaciologist at the University of Calgary and a professional mountain guide. "I think that's what makes it so deadly," she says.
Criscitiello has attempted 13 winter ascents of Mount Washington, but she has only stood on the top three times. "The worst weather I've experienced on Mount Washington has been comparable to weather I've experienced in the Antarctic," she says. Precisely because of this, the Mount Washington Observatory is a regular testing facility for gear and instruments bound for the poles.
"You read about it and you think you understand," says Mary Stampone, New Hampshire's state climatologist, but "it's one of those places where you don't appreciate it until you've been up there to see it." In winter, when the entire summit lies coated in a thick crust of rime ice, the buildings blend seamlessly with both rock and cloud. "It seems like you could take one step and fall right off," she says.