Oldest "Third Pole" ice core recovered
by Mary Caperton Morton Monday, March 19, 2018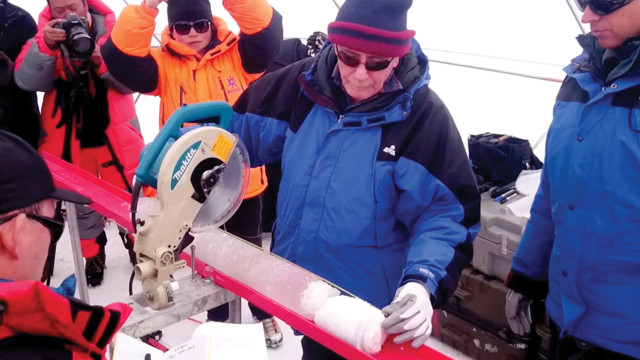 Holding massive reservoirs of ice, high-altitude glaciers, such as those in the Himalayas, are sometimes referred to as Earth's "Third Pole." The Guliya Ice Cap, on the Tibetan Plateau, has now produced the oldest ice ever drilled outside the Arctic or Antarctica.
Extracted in five sections, the longest more than 300 meters, the Guliya ice dates back more than 600,000 years. The oldest continuous ice-core record in the world extends back more than 800,000 years and was recovered in Antarctica, where samples of ice as old as 2.7 million years old have also been recovered.
Temperature and precipitation records collected on the Guliya Ice Cap show the average temperature there has risen by 1.5 degrees Celsius over the last 50 years, and the average annual precipitation has risen by 53 millimeters over the past 25 years. The new core will help scientists determine how the ice cap has fared in these changing conditions, the joint American and Chinese research team explained in a presentation at the American Geophysical Union fall meeting in New Orleans in December.
"Generally, the higher the elevation, the greater the rate of warming that's taking place," said project leader Lonnie Thompson of Ohio State University in a statement. "The ice cores actually demonstrate that warming is … already having detrimental effects on Earth's freshwater ice stores."
In the coming months, the team will continue to study the core, analyzing the isotopic chemistry in detail to reconstruct long-term temperature and precipitation records. "The more we study the different components of the environment of the Third Pole, the better we understand climate change and its linkages among Earth's three polar regions," said project co-leader Yao Tandong of China's Institute of Tibetan Plateau Research.