Oceanographers solve mysterious beach explosion
by Sara E. Pratt Wednesday, December 23, 2015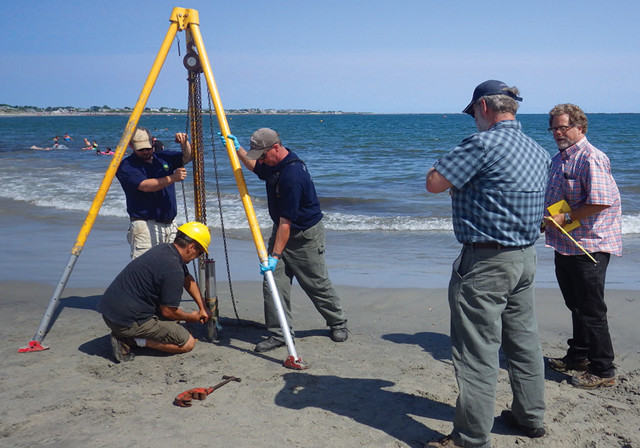 Late on the morning of Saturday, July 11, 2015, Kathleen Danise, a 60-year-old nurse and grandmother from Waterbury, Conn., was enjoying a sunny day at Salty Brine State Beach on the shores of Block Island Sound in Narragansett, R.I., when an explosion knocked her from her beach chair. She landed a few meters away near a rock jetty, unconscious and suffering a concussion, two fractured ribs and bruising for which she was hospitalized overnight.
An investigation by state and federal authorities ruled out a planted explosive device, so investigators turned to researchers at the University of Rhode Island (URI) to determine if the explosion had a natural cause.
"After the bomb squad had ruled out explosives, terrorism and old munitions, the hypothesis was that there could have been a significant source of methane in the sand," said URI geochemist Arthur Spivack in a statement. Another possibility, raised by URI atmospheric chemist Brian Heikes, was hydrogen, possibly related to an abandoned underground electrical cable at the site.
Analyses of sediment cores taken by the researchers showed negligible amounts of methane, but hydrogen levels as high as 50,000 parts per million, easily enough to be ignited by a minor spark. A site inspection of the 10-meter-long buried cable, which was highly corroded along most of its length but in good condition near the blast end, confirmed the team's suspicion.
"The copper was like a shiny new penny, and the steel was silvery, even though it had been in seawater for many years," Spivack said, likening the cable to a short-circuited battery in salt water. "That told me that it was consistent with there being a slight negative voltage in that end of the cable, which protects it from corroding but also could produce hydrogen."
The researchers determined that the likelihood of another explosion was low, as the site had been excavated during the investigation, allowing the gas to dissipate.