Ocean dynamics speed sea-level rise along U.S. East Coast
by Mary Caperton Morton Monday, January 13, 2014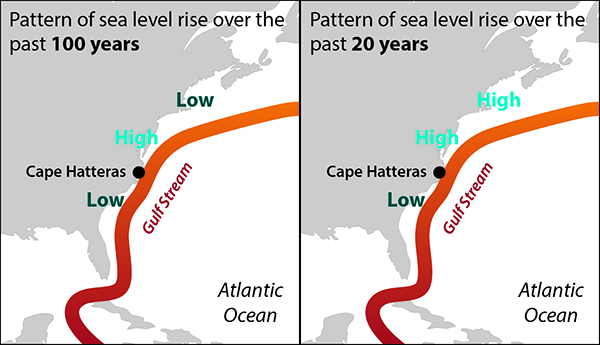 Over the past century, sea levels along the East Coast of the U.S. have risen faster than the global mean. This accelerated rise has so far been attributed to nonclimatic factors, such as land subsidence along the Eastern Seaboard, but available tide gauge data don't fit with such slow and near-constant processes. A new study now links this regional sea-level rise to climate change and ocean dynamics — and the results may bring more bad news for ocean-front properties along the East Coast.
Long-term tide gauge records indicate that sea level rose during the last century by 3 to 5 millimeters a year between North Carolina and New Jersey, a significantly faster rate than the global mean of 1.7 to 1.8 millimeters per year. Rates decrease north of New Jersey and south of Cape Hatteras, producing a "middle-high" pattern.
In the past 20 years, this middle-high pattern gave way to a north-high, south-low pattern, with areas north of Cape Hatteras up through New England experiencing rising sea levels by as much as 4 to 6 millimeters per year and areas south of Hatteras down to Florida experiencing a less dramatic rise.
"Scientists have usually attributed fast sea-level rise in the Mid-Atlantic region to subsidence produced by glacial isostatic adjustment [areas north of the Mid-Atlantic rebounding], but we found ocean dynamics play a part, particularly in regards to ocean density and circulation between the Gulf Stream and the North Atlantic," says Jianjun Yin, a climate scientist at the University of Arizona and lead author of the new study, published in Geophysical Research Letters.
Ocean dynamics describe the motion of water within and among the world's oceans, with water circulation, density and temperature all influencing ocean currents. To study the interactions between sea-level rise and ocean dynamics, Yin and colleagues combined tide gauge and satellite data with sophisticated computer models that could plot large-scale sea-level changes over time.
"We think these changing patterns are being caused by the northern shift and changing strength of the Gulf Stream," Yin says. "As the Gulf Stream shifts northward, sea-level rise also shifts northward, causing the middle-high pattern during the 20th century." The Gulf Stream is a warm and fast current from the Gulf of Mexico that travels around the tip of Florida, up the East Coast to Newfoundland and across the North Atlantic.
During the 21st century, the warming and freshening of the North Atlantic, brought on by climate change, produced a decline in ocean density contrast where the Gulf Stream and North Atlantic meet, Yin says. "The northeast coast of the U.S. is occupied by a very dense, cold water mass, and sea level is lower accordingly. Overall, a decrease in ocean density leads to an increase in sea-level rise" in this region.
The omission of ocean dynamics in sea-level studies has mainly been due to limitations in computing power and modeling, says John Boon, a coastal marine scientist at the Virginia Institute of Marine Science of the College of William and Mary in Gloucester Point, Va., who was not involved in the new study. "Ocean dynamics are very complicated, and models are just beginning to meet the challenge. This group has taken a new approach to modeling these interactions," Boon says. "It's really first-rate work."
Next, Yin and colleagues plan to work with a high-resolution model that will give them more insight into local sea-level rise, such as might affect Manhattan.
"These findings foreshadow some difficulties for the northeast U.S., to say the least," Boon says. "This wave of research was surging before [Superstorm] Sandy, which really accelerated interest in this field," he says. "The interactions between sea-level rise and ocean dynamics have long been underestimated, but in the next few years, they are going to get a lot more attention."