New research suggests Syrian refugees must be accounted for in seismic risk models
by Sara E. Pratt Tuesday, December 13, 2016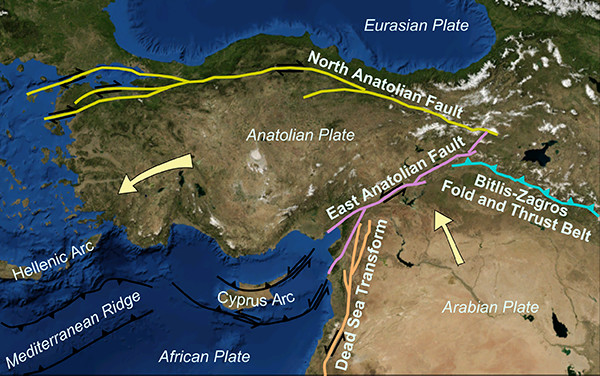 Much of Turkey — including densely populated areas like Istanbul — faces significant seismic risk. Should a powerful quake strike in one of these areas, hundreds to thousands of people would likely be killed. But the numbers of dead could be far higher than previously suggested. New estimates of earthquake fatalities in Turkey are 3 to 20 percent higher when Syrian refugees are included in seismic risk models, reported [Bradley Wilson](http://: https://news.uark.edu/articles/27386/nine-u-of-a-students-and-recent-alumni-receive-nsf-fellowships), a graduate student in the department of geosciences at the University of Arkansas in Fayetteville at the fall meeting of the American Geophysical Union (AGU) in San Francisco today.
Since March 2011, when the Syrian government cracked down on Arab Spring demonstrations and sparked a civil war, more than 4.8 million refugees have fled the country. Many of the 2.7 million who fled north into Turkey settled in earthquake-prone regions in the south near the East Anatolian and Dead Sea fault zones.
According to the United Nations Refugee Agency, about 260,000 refugees are living in 23 refugee camps in the southern provinces of Hatay, Gaziantep, Kilis and Sanliurfa. The majority of refugees have been integrated into the population, settling mainly in urban areas, although detailed records are often lacking.
Current seismic risk models do not take these displaced populations into account, Wilson said in a press conference at AGU. "This is really important because population statistics drive how we estimate the severity of potential future earthquakes."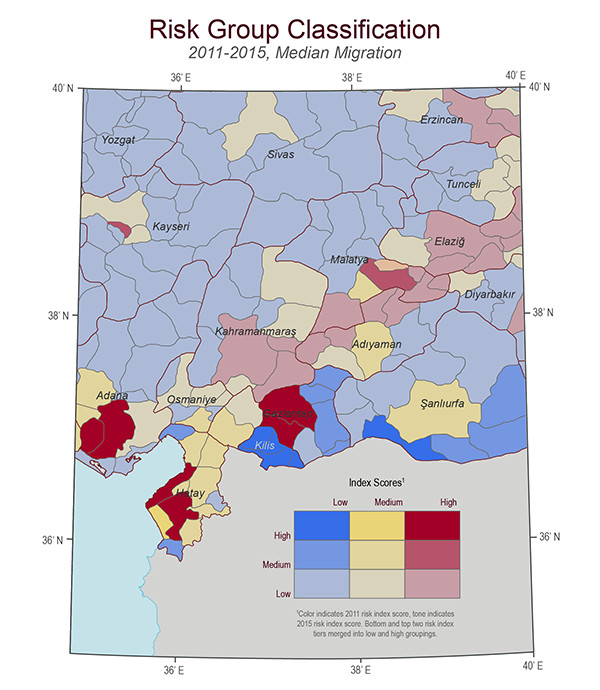 To assemble more accurate population estimates, Wilson and his advisor, Thomas Paradise, the director of Middle East studies in the geosciences department, combined official population statistics, refugee camp populations, and estimates of integrated refugee populations from the U.S. Humanitarian Information Unit.
The researchers then performed a probabilistic seismic hazard analysis under three different population scenarios (low, medium and high) to map spatial variations in seismic risk between 2011 and late 2015. "When you include refugee statistics, the districts that score high on risk index shift significantly southward," Wilson said.
The researchers also calculated earthquake fatalities for three different simulated earthquake scenarios (magnitudes 5.8, 6.4 and 7). In the country's most populous southern districts, a magnitude-7 quake could raise the death toll by 20 percent, whereas a magnitude-5.8 quake could raise it by 3 percent. Either way, that's "hundreds to thousands of missing casualties," Wilson said.
"Social and political factors are equally as important as geologic factors" when it comes to estimating earthquake risk, and developing mitigation and response plans, Wilson says. "The best thing we can do right now is to include the refugees."
Turkey has a significant history of seismic activity. In October 2011, the magnitude-7.1 Van quake in eastern Turkey killed 600. In 1999, a magnitude-7.6 quake on the North Anatolian Fault near Izmit killed 17,000. In 1976, a magnitude-7.3 in eastern Turkey near the border of Iran killed several thousand people. And, in 1939, a magnitude-7.8 in Erzincan, Turkey, killed 33,000 people.