New federal guidelines aim to combat bat-killing fungus
by Mary Caperton Morton Thursday, January 5, 2012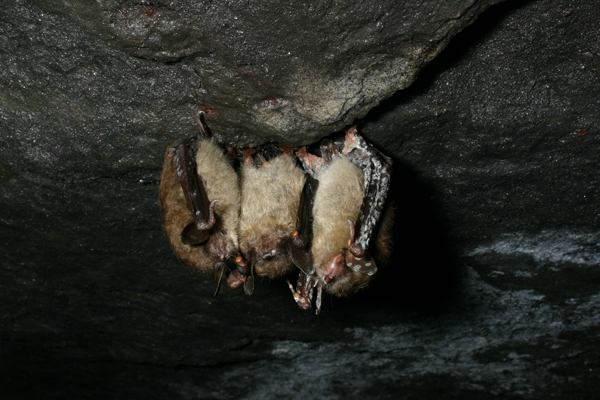 On May 17, the U.S. Fish and Wildlife Service released a new nationwide plan to curb the spread of White Nose Syndrome (WNS), the mysterious fungal disease that has killed upward of 2 million hibernating bats since emerging in 2006.
"The National Plan for Assisting States, Tribes and Federal Agencies in Managing White-Nose Syndrome in Bats" (pdf) identifies seven elements important in curbing the spread of WNS, including standardizing disease management and surveillance practices, developing decontamination protocols to reduce the transmission of the fungus, and creating an online data system to more efficiently disseminate new information to researchers and wildlife officials across the country.
In unveiling the plan Tuesday, Interior Secretary Ken Salazar said the new plan provides a road map for the more than 100 federal, state and tribal agencies and scientific researchers that are tracking the disease and attempting to combat it.
"White Nose Syndrome threatens far-reaching ecological and economic impacts,'' Salazar said. "We've learned a lot in the past few years about the disease, but there is much more work to be done to contain it.''
Since the causative fungus, Geomyces destructans, first appeared in caves in New York in 2006, WNS has spread to 18 states up and down the East Coast and four Canadian provinces. Scientists estimate as many as 2 million bats have already died from the disease, and several species, including the once thriving little brown bat and the already endangered Indiana bat, could soon be driven to extinction.
The national plan's release coincides with the fourth annual White Nose Syndrome Symposium being held in Little Rock, Arkansas May 17-19, where more than 170 of the world's top scientific experts on bats, wildlife disease and the WNS fungus are presenting the latest research and information on how to contain the spread of the fungus and find a cure for White Nose Syndrome.