Nautical charts reveal coral decline around Florida Keys
by Sarah Derouin Thursday, December 14, 2017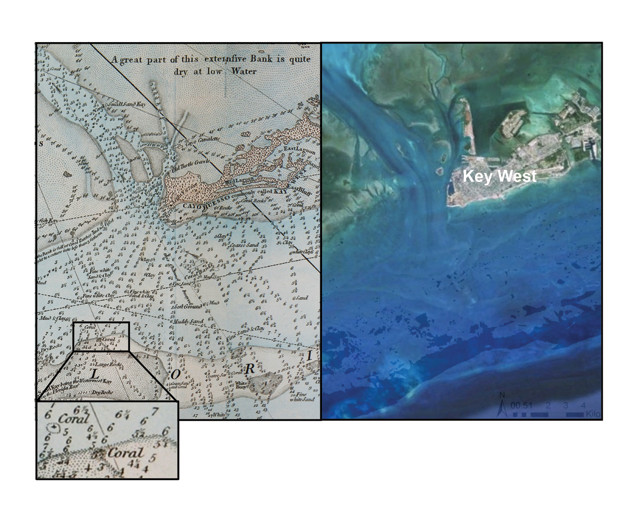 Coral reef cover is known to have decreased over the past few decades, but longer term estimates of coral cover have been difficult to reconstruct. In a new study, researchers used high-resolution historical nautical maps from the 18th century to determine changes to reefs in the Florida Keys.
The chartmakers used the best technology available at the time, said Benjamin Neal, co-author of the study in Science Advances and a postdoctoral researcher at the Bigelow Laboratory for Ocean Sciences in Maine, in a statement. "The maps were essential to expansion of the British Empire, and luckily for us, they also included a lot of useful ecological information."
The team utilized the detailed historical charts and georeferenced them for comparison to modern satellite surveys. The researchers found that some reefs had decreased by 90 percent. "We found near the shore, entire sections of reef are gone," said lead author Loren McClenachan of Colby College in Maine. "But in contrast, most coral mapped farther from land is still coral reef habitat today." The analysis showed overall coral loss in Florida Bay was 52 percent over the last 240 years.
This study differs from other coral surveys as it examines not only recent change at currently extant coral reefs habitats, but also long-term changes to both living and extinct reefs. The authors suggested that their approach of measuring reef declines over a large area and over a long time frame will help conservation and restoration efforts for coral and other reef-dwelling animals.