Mineral Resource of the Month: Strontium
by USGS Mineral Commodities Team Thursday, January 11, 2018
by Sheryl Singerling, USGS mineral commodity specialist
PRODUCTION
GEOLOGIC OCCURENCE
Two strontium-bearing minerals, celestite (strontium sulfate, SrSO4) and strontianite (strontium carbonate, SrCO3), contain strontium in sufficient quantities to make recovery practical. Celestite occurs much more frequently and is the primary source of the world's supply of strontium. Celestite occurs as crystals and as massive or fibrous aggregates in sedimentary rocks. It often displays a delicate blue color owing to the presence of impurities. Celestite can occur in bedded evaporite deposits in conjunction with gypsum, anhydrite and halite. It can also occur in cavities within carbonate rocks where it is precipitated from strontium-bearing groundwaters or brines.
---
GLOBAL PRODUCTION OF CELESTITE (GROSS WEIGHT)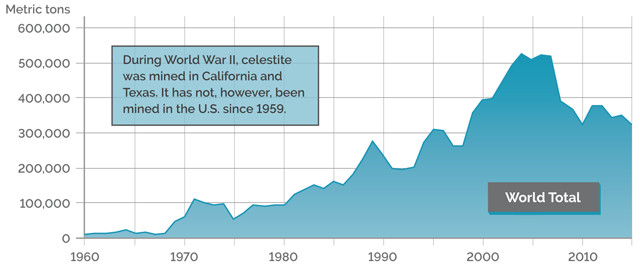 ---
GLOBAL PRODUCTION OF CELESTITE 2015 (GROSS WEIGHT)

CONSUMPTION
U.S. APPARENT CONSUMPTION OF STRONTIUM (STRONTIUM CONTENT)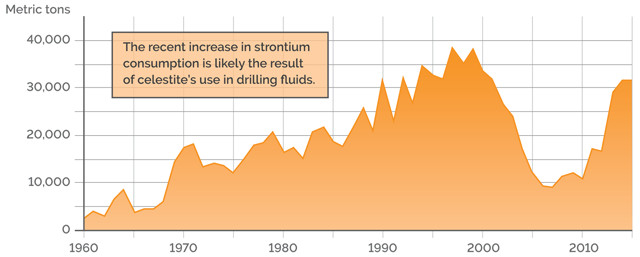 ---
U.S. IMPORT SOURCES OF STRONTIUM COMPOUNDS 2015 (GROSS WEIGHT)

---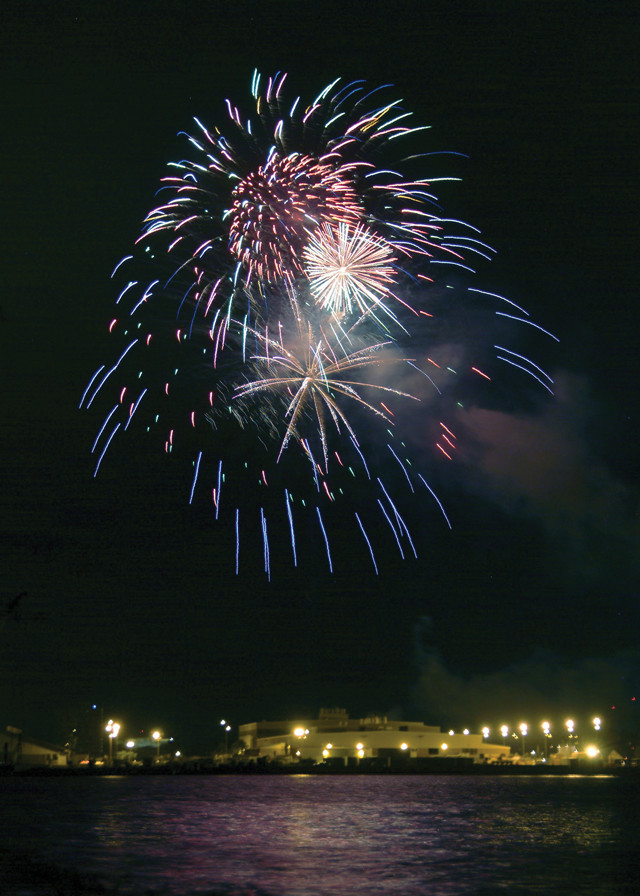 COMMERCIAL USAGE
Historically, strontium's primary use was in the faceplate glass of colored cathode ray tube (CRT) televisions to block X-ray emissions. Liquid crystal displays, light-emitting diode devices and plasma devices have largely replaced CRTs.
Currently, primary uses for strontium compounds and metal include pyrotechnics (fireworks displays, tracer ammunitions, emergency flares), permanent ceramic ferrite magnets and as an additive to aluminum alloys to improve castings for automobiles and aircraft.
FUN FACTS
Strontium metal is not stable in air and reacts violently with water, which is why it is not found in nature.
The first major use of strontium was in the production of sugar from sugar beets in the 19th century. This process is no longer used owing to its inefficiency.
Strontium's chemical similarity to calcium allows for its use in several medical applications.
---
Visit minerals.usgs.gov/minerals for more information
design by K. Cantner and N. Schmidgall, AGI