Mineral Resource of the Month: Phosphate
by U.S. Geological Survey Monday, September 10, 2018
By Stephen M. Jasinski, USGS mineral commodity specialist
PRODUCTION
GEOLOGIC OCCURRENCE
Phosphate rock refers to unprocessed ore and beneficiated concentrates that contain some form of apatite, a group of calcium phosphate minerals. Apatite in phosphate rock is the primary source for phosphorus in phosphate fertilizers. More than 80 percent of the world's current production of phosphate rock is mined from sedimentary deposits, which were formed by the deposition of phosphate-rich materials in marine regions. Most of the rest comes from igneous deposits of carbonatites and silica-deficient intrusions. The grade of phosphate rock is classified by the phosphorus pentoxide content.
---
GLOBAL PRODUCTION 1900–2016

---
2016 GLOBAL PRODUCTION

CONSUMPTION
U.S. APPARENT CONSUMPTION

---
NET PHOSPHATE ROCK TRADE

---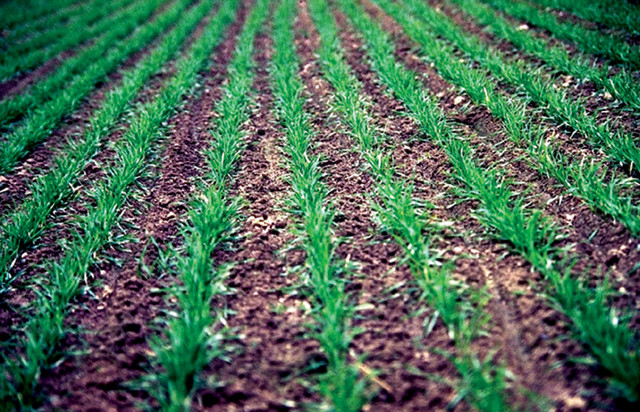 COMMERCIAL USAGE
Worldwide, more than 85 percent of the phosphate rock mined is used to manufacture phosphate fertilizers. The remaining 15 percent is used to make elemental phosphorus and animal feed supplements, or it is applied directly to soils. Treating phosphate rock with sulfuric acid makes phosphoric acid, a water-soluble material and the basic material from which most phosphatic fertilizers are derived. Elemental phosphorus is produced by smelting phosphate rock, coke and silica in an electric furnace. Elemental phosphorus is used to manufacture a wide range of chemical compounds.
FUN FACTS
Phosphate rock is used to make phosphate compounds that are used in applications such as food additives, detergents and herbicides. Phosphoric acid is used in cola beverages.
Phosphorus was first discovered in 1669 by Hennig Brand in Germany, when he recovered it from urine.
---
Visit minerals.usgs.gov/minerals for more information
design by K. Cantner and N. Schmidgall, AGI