Mineral Resource of the Month: Iron Ore
by U.S. Geological Survey Thursday, June 14, 2018
John D. Jorgenson, a mineral commodity specialist for the U.S. Geological Survey, compiled the following information about iron ore, a mineral resource essential for the production of steel.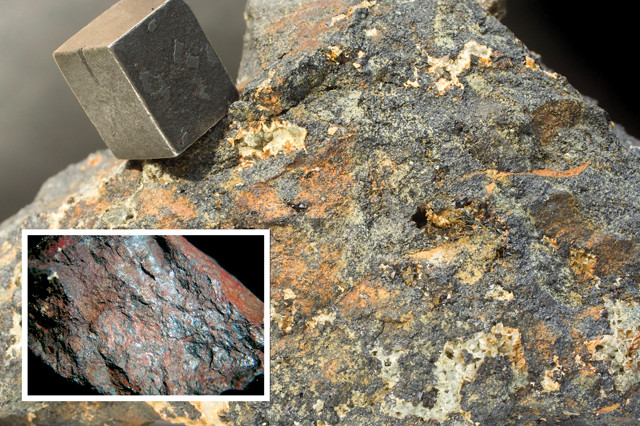 In nature, elemental iron is found largely in either magnetite or hematite, both iron ore minerals. Nearly all iron ore — whether used directly as lump ore or converted to briquettes, concentrates, pellets or sinter — is used to make steel. In the United States, steelmaking accounts for almost 99 percent of iron ore consumption. Minor amounts are consumed in the production of cast iron, cement, magnets and jewelry. There are eight major iron ore mines in the United States — all surface mining operations — two in Michigan and six in Minnesota.
Almost all iron ore is converted to pellets and transported from mines to blast furnaces where along with coke, limestone and other additives, it is converted into pig iron, the final stage before steelmaking. Great Lakes transportation is critical to the U.S. iron ore industry. Almost all domestically mined iron ore is moved through ports on Lake Superior to other lake ports in Indiana, Michigan, Ohio, and Ontario, Canada. The major bottleneck to shipping infrastructure is the climate: Frozen lakes, rivers and canals halt traffic in the winter months, and summer drought limits vessel draft capacities for the lake superfreighters.
Environmental management efforts by iron ore mining companies, especially in Minnesota's Mesabi Range, which borders a wilderness area, are critical to preserving the natural environment. Each of the U.S. mines has committed to efforts to preserve the environment. A good example of this environmental stewardship is Michigan's exhausted Republic Mine, which was closed in 1996; today, an 800-hectare wildlife habitat is flourishing.
Visit minerals.usgs.gov/minerals for more information on iron ore.
---
IRON ORE PRODUCTION AND CONSUMPTION
World production of iron ore has almost doubled in the past five years, and averages more than 2 billion metric tons per year. The top 10 countries producing iron ore in 2007 were China, Brazil, Australia, India, Russia, Ukraine, United States, South Africa, Canada and Iran. Estimated U.S. reserves of iron ore are 6.9 billion metric tons, about 5 percent of the world's total reserves.
The top exporters of iron ore in 2007 were Brazil, Australia, India, South Africa and Canada. Three companies in Australia and Brazil control almost 70 percent of the world's seaborne iron ore market.
The top importers of iron ore in 2007 were China, Japan, Republic of Korea, Germany and France. Even though China produces a lot of iron, its ore has a lower grade of iron, so it must import a lot of iron ore and is by far the world's largest importer.
In the United States, almost 99 percent of domestic iron ore production is transformed into molten iron in blast furnaces by the iron and steel industry.
---
FUN FACTS
Every time a metric ton of steel is recycled from scrap, more than a metric ton of iron ore will not have to be mined.
In Lake Superior's western basin, magnetic attraction due to iron ore deposits on the lake bottom causes ships' compasses to be extremely unreliable.
Alabama's state mineral is hematite.
Hematite's name is derived from the Greek word for blood because the mineral has a red streak and can be reddish in color. Hematite in the form specularite can be used as a gemstone in making jewelry.