Mineral Resource of the Month: Garnet
by U.S. Geological Survey Wednesday, June 13, 2018
Donald W. Olson, mineral commodity specialist for the U.S. Geological Survey, has compiled the following information on garnet, a useful industrial mineral as well as one of the world's most popular gemstones.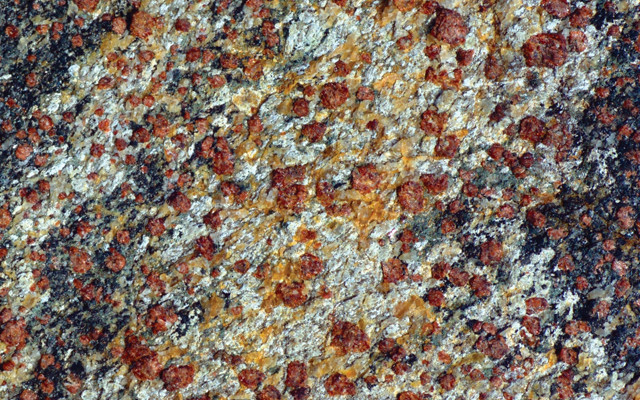 Garnet, the birthstone for the month of January, has been used as a gemstone for centuries. Garnet necklaces dating from the Bronze Age have been found in graves, and garnet is found among the ornaments adorning the oldest Egyptian mummies. However, garnet's characteristics, such as its relatively high hardness and chemical inertness, make it ideal for many industrial applications.
Garnet is the general name given to a group of complex silicate minerals all with isometric crystal structure and similar properties and chemical compositions. The general chemical formula for the garnet minerals is A3B2(SiO4)3, where A can be calcium, ferrous iron, magnesium or manganese, and B can be aluminum, chromium, ferric iron, or rarely, titanium. The most common garnet minerals are classified into three groups — the aluminum-garnet group, the chromium-garnet group and the iron-garnet group.
Worldwide, garnet resources are large and occur in a wide variety of rocks, principally in metamorphic rocks such as gneisses and schists. Garnet also occurs in veins, contact metamorphic rocks, metamorphosed crystalline limestones, pegmatites and serpentinites. In addition, alluvial garnet sands are associated with heavy-mineral sand and gravel deposits in many parts of the world. Occurrences of garnet are numerous; however, relatively few commercially viable garnet deposits have been discovered.
Garnet that exhibits good clarity, color and size is used as a gemstone. Red garnets are the most commonly used as gemstones, but gem-quality garnet can also be shades of green, orange and yellow. These colors of garnets are relatively inexpensive compared to other gemstones that are similar colors, yet garnets still have beauty, durability and rarity.
Garnet that does not meet gem-quality standards is used for industrial applications, including as an abrasive blasting media, as abrasive powders and for water filtration. Domestic industries that consume garnet include aircraft and motor vehicle manufacturers, ceramics and glass producers, filtration plants, shipbuilders, textile stonewashers and wood-furniture-finishing operations.
The U.S. petroleum industry is one of the leading garnet-consuming industries, using garnet for cleaning drill pipes and well casings. The single largest end-use for garnet is in "waterjet cutting," which uses ultra-high pressure water containing garnet grains to cut a wide variety of materials ranging from leather and fabric to steel and titanium. Garnet has replaced some silica sand in the abrasive blasting media market because garnet does not have the health risks associated with the inhalation of airborne crystalline silica dust.
For more information on garnet, visit http://minerals.usgs.gov/minerals.
---
Garnet production and consumption
During 2010, an estimated 10.5 million carats of gem garnet with an estimated value of $149,000 was produced in the U.S. from six mines in Alaska, Idaho, Montana and Washington.
During 2010, U.S. production of crude industrial garnet was estimated to be 52,600 metric tons valued at $7.91 million. Four U.S. companies accounted for all domestic production of industrial garnet — one in Idaho, one in Montana and two in New York.
World industrial garnet production was estimated to be about 1.41 million metric tons in 2010, primarily in four countries: India, which produced 50 percent of global industrial garnets, followed by China, Australia and the United States, which collectively produced 47 percent.
During 2010, the estimated U.S. apparent consumption of crude industrial garnet was 83,500 metric tons, accounting for about 6 percent of global industrial garnet use.
---
Fun facts
Garnet is the state mineral of Connecticut and the state gemstone of New York. The star garnet (garnet with asterisms caused by the inclusion of needle-like crystals of rutile) is the state gemstone of Idaho.
Garnet naturally occurs in every color of the spectrum, colorless and black, but it is most commonly red, purple, brown and green. The rarest garnet color is blue.
Industrial garnet is used in sand paper and fingernail files.