Mineral Resource of the Month: Fluorspar
by USGS Mineral Commodities Team Thursday, January 11, 2018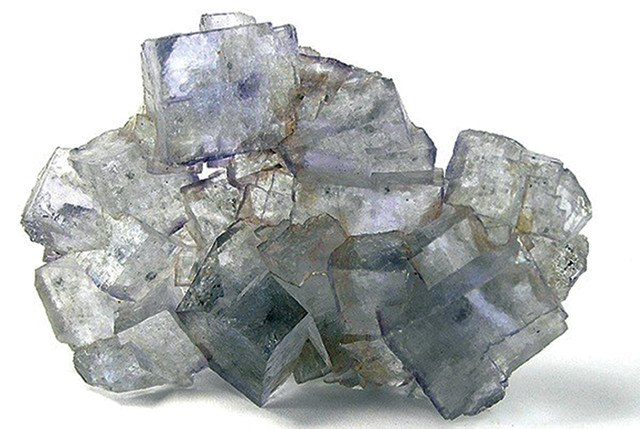 By Michele E. McRae, USGS mineral commodity specialist
PRODUCTION
GEOLOGIC OCCURENCE
Fluorspar, or fluorite, occurs in a variety of geological environments and is deposited under a wide range of chemical and physical conditions, but commercial sources are primarily hydrothermal. The most common deposits occur as veins, mantos (replacement strata-bound orebodies) or replacement deposits. Other important deposits include stockworks and fillings in shattered zones, carbonatite and alkalic rock complexes, residual concentrations resulting from the weathering of primary deposits, and recoverable gangue in base metal deposits.
---
WORLD & U.S. PRODUCTION OF FLUORSPAR (METRIC TONS ACID AND METALLURGICAL GRADE)

---
2014 WORLD PRODUCTION (METRIC TONS OF FLUORSPAR)

CONSUMPTION
DOWNSTREAM APPLICATION OF ACID-GRADE FLUORSPAR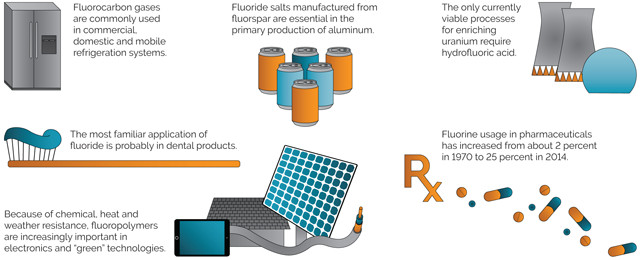 ---
COMMERCIAL USAGE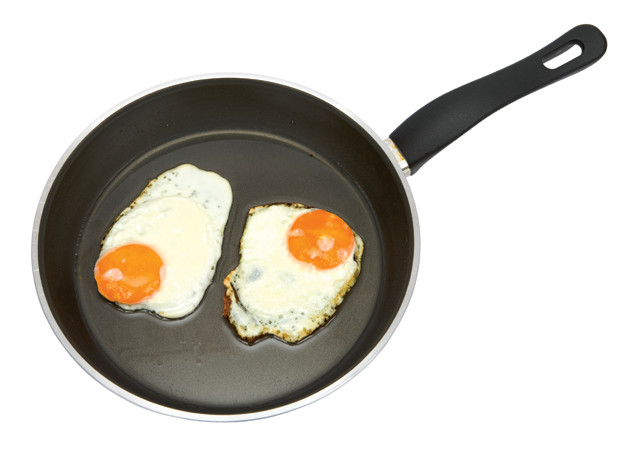 Fluorspar is the common commercial term used to describe crude or beneficiated mined and milled concentrates of the mineral fluorite (calcium fluoride). Acid-grade fluorspar, containing 97 percent or greater of calcium fluoride, is the primary source of fluorine in consumer products and manufacturing processes. Metallurgical grade fluorspar, containing less than 97 percent calcium fluoride, is primarily used as a flux in steelmaking and in the manufacture of cement.
Fluorspar's most important use is in the production of hydrofluoric acid, an intermediate essential for the production of nearly all fluorine-containing chemicals. Elemental fluorine is extremely reactive, but many fluorine compounds, particularly those containing carbon, are very stable and versatile, and thus useful in a diverse array of downstream products and manufacturing processes. This versatility, however, is constrained by environmental, health and safety issues pertaining to many fluorine derivatives. Demand for fluorspar, therefore, continually adapts to changes in industry practice and regulation, and to technological advancements in the downstream industry.
FUN FACTS
The first fluoropolymer was created by accident in 1938, but no applications were identified until the Manhattan Project found that it was one of the few substances that could be used to contain highly corrosive uranium hexafluoride, which is needed to separate uranium isotopes. After the war, the material was trademarked under the name Teflon.
A fluoride, platinum hexafluoride, was used to create the first noble gas compound with xenon. Other noble gas compounds have been formed with radon, krypton and argon.
Vi​sit minerals.usgs.gov/minerals for more information
design by K. Cantner and N. Schmidgall, AGI