Mineral Resource of the Month: Dimension Stone
by USGS Mineral Commodities Team Wednesday, June 13, 2018
Thomas P. Dolley, the U.S. Geological Survey dimension stone commodity specialist, has compiled the following information on dimension stone, an abundant natural resource that is produced by one of the world's oldest industries.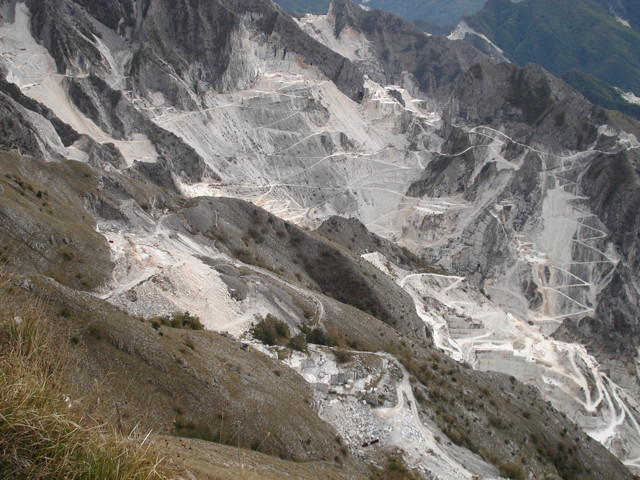 Dimension stone is not actually any one type of rock. Instead, it is any natural rock material quarried for the purpose of obtaining blocks or slabs that meet certain size (width, length and thickness) and shape specifications needed for building. Color, grain texture and pattern, surface finish, durability, strength and the ability of the stone to take a polish are also important selection criteria.
Although numerous varieties of igneous, metamorphic and sedimentary rocks are used as dimension stone, the principal rocks used are granite, limestone, marble, sandstone and slate. Significant deposits of granite and marble can be found from Alabama to Maine in the United States. The Carrara District in northern Italy has also long been a significant producer of marble, as have China, Greece and Spain. Brazil, Canada, China, South Africa and the Scandinavian countries produce significant amounts of granite from large reserves.
Scientific descriptions of dimension stone typically focus on a stone's geographic origin and mineralogical composition, whereas commercial descriptions focus mainly on the geographic origin and color of the stone. Various combinations of the scientific and commercial descriptions are used by stone producers to market their stone products effectively, as with Rock of Ages Corp.'s Barre Gray granite or Polycor Inc.'s White Georgia marble.
Production of dimension stone starts with rough stone blocks that are split or cut from a quarry face and then transported to processing plants typically located at the quarry, at least for preliminary sizing. Final sizing and finishing operations, such as decorating, edging and polishing, may be completed at the quarry or elsewhere.
Dimension stone has been used since antiquity, and many ancient buildings and monuments around the world that were built with various types of dimension stone still survive today. These ancient buildings and monuments often served as symbols of power and technological prowess for their respective civilizations.
With the advent of construction methods using reinforced concrete and steel in the 19th and 20th centuries, dimension stone ceased to be a major structural component in building construction. During the last three decades, there has been more demand for the aesthetic qualities of dimension stone, and the industry slowly has diversified into the growing markets for home improvements, including the use of dimension stone in kitchen countertops, home restoration, historic preservation, and new home and commercial construction.
For more information on dimension stone and other mineral resources, visit: minerals.usgs.gov/minerals.
---
Dimension stone production and consumption
U.S. production of dimension stone in 2010 was estimated to be 1.67 million metric tons, valued at $323 million.
Granite accounted for 42 percent of the total U.S. dimension stone production, followed by limestone at 27 percent, miscellaneous stone at 14 percent, sandstone at 14 percent, marble at 2 percent, and slate at 1 percent.
The United States is the world's leading market for dimension stone.
The top five producing countries are China, India, Turkey, Iran and Italy; the United States ranks 10th.
---
Fun facts
Indiana limestone was used as cladding for the Empire State Building in New York City and the Pentagon in Washington, D.C.
The Tomb of the Unknowns in the Arlington National Cemetery in Virginia and the Lincoln Memorial in Washington, D.C., were constructed with Colorado Yule marble.
The exterior of the White House is primarily Virginia Aquia Creek sandstone that was refinished with Maryland marble and other marbles.
In antiquity, the Carrara marble quarries in northern Italy were first exploited by the Etruscans and the Romans. Later, Michelangelo personally visited the quarries to select marble for his sculptural masterpieces.