Mineral Resource of the Month: Barite
by U.S. Geological Survey Wednesday, June 13, 2018
M. Michael Miller, a mineral commodity specialist for the U.S. Geological Survey, compiled the following information on barite, an important component in oil and drilling mud.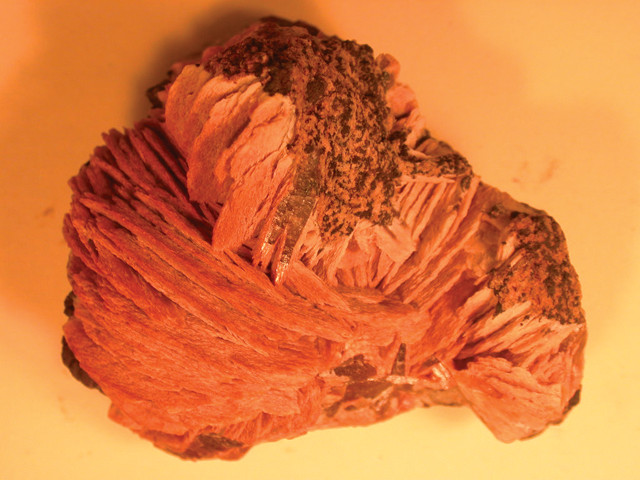 The mineral barite (barium sulfate), also known as barytes, is most commonly found in hydrothermal veins and as veins in limestone. It is very dense (it has a high specific gravity) and is relatively soft. Those properties make it an excellent weighting agent in drilling muds for petroleum wells. In fact, worldwide, oil and gas drilling account for 85 to 90 percent of barite consumption. In the U.S., about 95 percent of barite is used by petroleum well-drilling markets; the remaining 5 percent in such industrial end uses as barium chemicals (which, for example, a person might drink prior to a medical procedure), filler in paint and plastics, powder coatings, friction products such as brake pads for cars and trucks, and heavy aggregate for radiation shielding.
Drilling mud is a suspension, generally aqueous, that is pumped down through the drill pipe to remove rock cuttings and to lubricate the drill bit in rotary drilling. Barite is added to increase the mud's specific gravity, which maintains the hydrostatic equilibrium, preventing gas, oil or saltwater from entering from high-pressure zones. Barite intended for this market must meet specifications set by the American Petroleum Institute, which set limits on size, specific gravity and soluble alkaline salt content.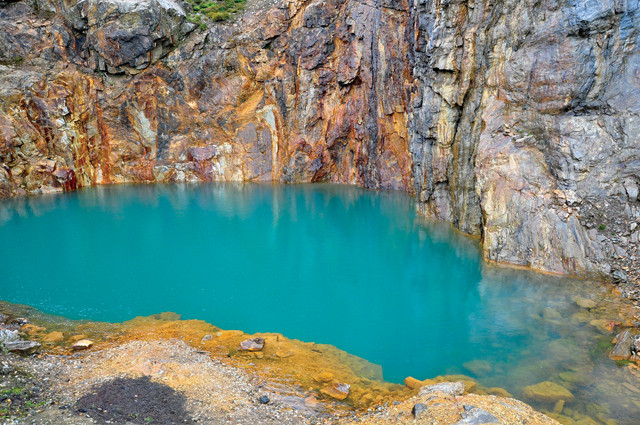 Outside of the U.S., the nondrilling markets for barite are larger, particularly in China and Europe, where there is significant production of barium chemicals.
Three important types of barite deposits have been identified: bedded, residual and vein and cavity fillings. Most barite is produced using open pit mining techniques, and the barite ore then typically undergoes simple beneficiation methods to separate the mineral from the ore. Methods such as washing, jigging and tabling, which involve separating it in water or shaking it, are used to isolate the dense material. Sometimes more complex beneficiation methods are required, such as heavy media separation, flotation and magnetic separation. Most barite ore requires some upgrading to meet minimum purity or specific gravity levels. Barite mining in the United States occurs predominantly in Nevada at four mines in Elko and Lander counties.
For more information on barite and other mineral resources, visit http://minerals.usgs.gov/minerals.
---
Barite production and consumption
World production of barite was estimated at 8.4 million metric tons in 2012.
U.S. barite production was about 640,000 metric tons in 2012.
The U.S. was the third leading producer in 2012.
China, India, Morocco and the U.S. account for about 80 percent of total world output.
Consumption of barite in the U.S. was estimated at 3.3 million metric tons in 2012.
The U.S. imported about 2.8 million metric tons of barite in 2012. Barite consumption for drilling uses can, in general, be correlated with the number of active rotary drill rigs. In 2012, the average monthly international rig count reached the highest level since 1985.
Drill rigs operating in the U.S. in 2012 accounted for 55 percent of the international total, and U.S. barite consumption was about 40 percent of the world total.
---
Fun facts
The name barite is derived from the Greek word for "heavy."
Some barite mineral specimens are brown from sand inclusions and may occur in beautiful rosette aggregates that resemble a flower.
Barium sulfate in suspension is frequently used as a radiocontrast agent for X-ray imaging and other medical diagnostic procedures.
Barium sulfate is used in many cosmetics such as lipsticks and lip glosses.