Mineral Resource of the Month: Antimony
by U.S. Geological Survey Tuesday, June 12, 2018
James F. Carlin Jr., mineral commodity specialist for the U.S. Geological Survey, compiled the following information on antimony, an essential industrial metal with a variety of uses.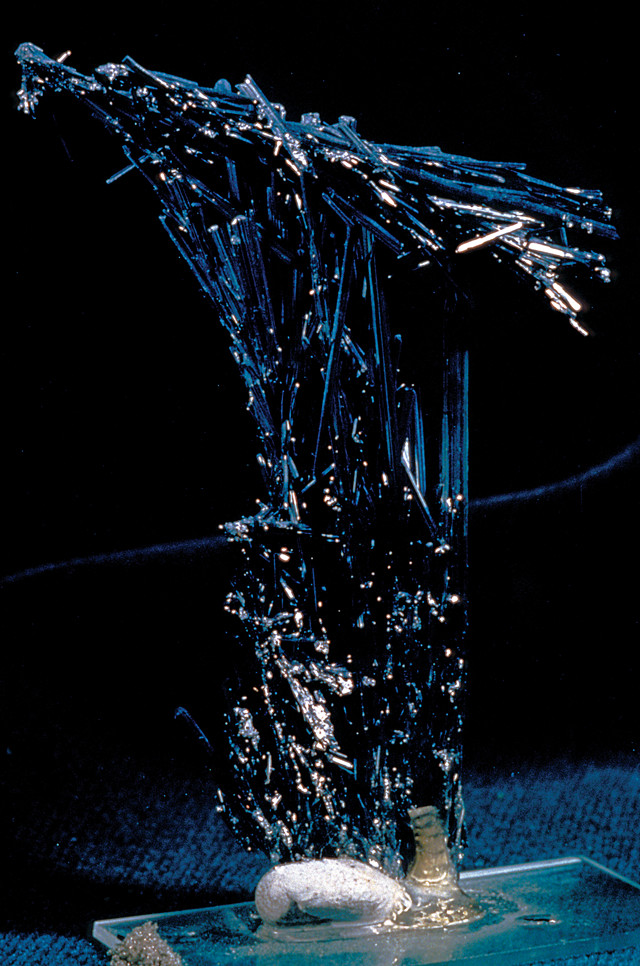 The word antimony comes from the Greek phrase anti plus monos —"a metal seldom found alone." Although the name was intended to describe the metal's mineralogical association in ores, it also aptly describes the use of antimony in modern industry, because the metal is usually used as an alloy with other metals. Archaeological and historical studies indicate that antimony and its mineral sulfides have been used by humans for at least six millennia. In ancient times, powdered stibnite, the most common mineral form of antimony sulfide, was (along with lead sulfide) a principal ingredient of kohl, the thick black paste that Egyptians and others used as a cosmetic for coloring eyebrows and lining the eyes.
Today, antimony is used in everything from flame retardants, batteries, ceramics and glass. About 40 percent of the primary antimony consumed in the United States goes into flame retardants, chemicals that when applied to or coated on a variety of materials (such as aircraft, automotive seat covers and children's clothing and toys) make them more resistant to combustion. The remainder is used primarily in glass for television picture tubes and computer monitors, in pigments, in stabilizers and catalysts for plastics, and in ammunition, cable coverings, friction bearings, lead-acid batteries, pewter and solders.
In addition to primary (newly mined) antimony, there is a substantial flow of secondary (recycled) metal, which in 2007, accounted for about 14 percent of the U.S. supply of antimony. Nearly all recycled antimony is reclaimed from and returned to use in lead-acid batteries. Antimony makes batteries stronger and resistant to corrosion.
Most antimony occurs in scattered ore bodies that cannot be readily exploited by large-scale mining methods. Often, antimony is produced as a byproduct of mining other metals, such as gold, lead or silver.
Thanks to increasing world consumption, rising antimony prices over the past five years have served to spur new mining activity and exploration around the world, especially in Australia and Mexico. The average price in 2003 was $1.08 per pound; in 2007, it was $2.59 per pound. In the first half of 2008, prices fluctuated between $2.60 and $2.83 per pound.
More than half of the world's reserve base is in China; the United States has about 2 percent of reserves, divided between Alaska, Idaho, Montana and Nevada. The supply of antimony is adequate to meet the expected world demand.
If there were ever an antimony supply shortage, compounds of chromium, tin, titanium, zinc and zirconium can substitute for antimony chemicals in paint, pigments and enamels. Combinations of cadmium, calcium, copper, selenium, strontium, sulfur and tin can be used in place of antimony for hardening lead. And selected organic compounds and hydrated aluminum oxide are widely accepted substitutes as flame retardants.
For more information on antimony and other mineral resources, visit minerals.usgs.gov/minerals.