Massive trove of dinosaur tracks cataloged in Australia
by Bethany Augliere Monday, July 17, 2017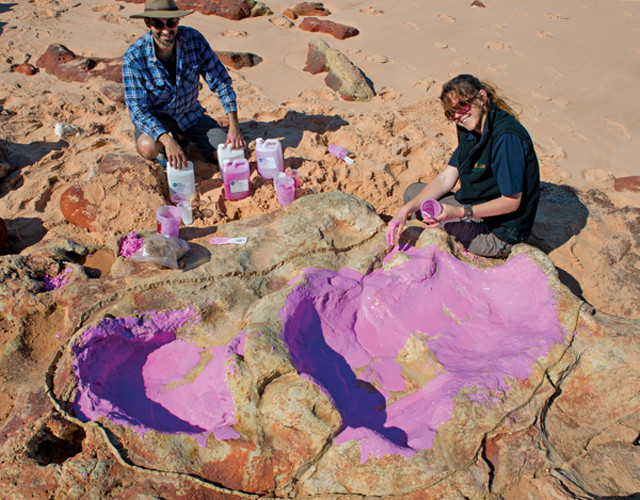 In a remote region of Western Australia, paleontologists have documented the world's most diverse assemblage of dinosaur tracks. The scientists found preserved in Early Cretaceous rocks thousands of tracks, 150 of which can be assigned to at least 11, and possibly as many as 21, different known track types representing theropods, sauropods, ornithopods and armored thyreophorans.
"Most track sites around the world have only two or three types of tracks. This diversity of tracks in the Walmadany area is unparalleled," says Steven Salisbury, a paleontologist at the University of Queensland in Australia and lead author of a new study detailing the site in the Journal of Vertebrate Paleontology.
From 2011 to 2016, Salisbury and colleagues spent more than 400 hours surveying for tracks along a 25-kilometer stretch of coastline on the Dampier Peninsula. They used a combination of ground- and aerial-based three-dimensional photogrammetry techniques and laser scanning.
Among the tracks is the first evidence of stegosaurs having roamed the continent, as well as the world's largest-known dinosaur footprint, a sauropod track stretching 1.75 meters. "The results have greatly changed our perception about what types of dinosaurs inhabited Australia during the first part of the Early Cretaceous. Without these tracks, we would have no idea what types of dinosaurs existed in Australia at this time," Salisbury says.
The site was almost lost before the tracks could be studied, however. In 2008, the Western Australian Government selected the area as the location for a liquid natural gas processing plant. The region's Traditional Custodians, the indigenous Goolarabooloo people, then contacted Salisbury to document the tracks. As a result, the tracks were listed as a National Heritage site in 2011 and development of the area stopped in 2013.