Massive earthquake strikes Chile
by Megan Sever Wednesday, April 2, 2014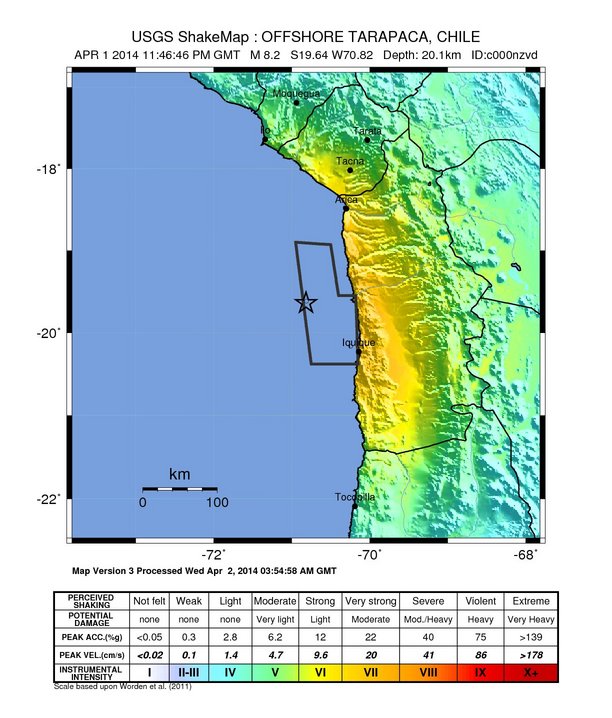 Update (April 2, 2014 9:49 a.m. EDT): As of Wednesday morning, many of the more than 900,000 people who evacuated from coastal areas of northern Chile were returning to their homes following yesterday evening's magnitude-8.2 earthquake, which hit 95 kilometers northwest of the city of Iquique. Damage in the region appears relatively light given the size of the tremor based on reports, although full assessments are still underway. Adobe homes in the town of Arica were reportedly destroyed, and elsewhere, landslides blocked and damaged some roadways. Six deaths have been attributed to the quake, according to Chilean authorities, including individuals who were killed by falling debris and at least two who suffered heart attacks. Roughly 300 prisoners are said to have escaped from a female prison in Iquique, some of whom have been taken back into custody. Shaking from the earthquake was felt as far away as La Paz, Bolivia, some 450 kilometers from the epicenter.
---
A massive magnitude-8.2 earthquake struck off the coast of Chile about 95 kilometers north of Iquique on Tuesday night at 6:46 p.m. local time, according to the U.S. Geological Survey (USGS). Iquique is a city of about 180,000 people near the Atacama Desert. Because the quake occurred underwater along a thrust fault in the subduction zone, a tsunami warning was issued for several cities along the Chilean coast and around the Pacific Basin. A 2.1-meter wave was reported in some Chilean cities. Preliminary reports indicate several deaths and some damage; power is out in many areas and landslides have also been recorded, according to news reports. So far, widespread destruction — which could easily accompany such a large quake — has thankfully not been reported.
The quake followed a month of increased seismic activity, including dozens of earthquakes up to magnitude-6.7 that have struck since March 16. Three magnitude-6.2 quakes occurred on March 17, 22 and 23, in addition to 26 quakes larger than magnitude 5 and more than 60 magnitude 4-5 quakes. As reported in a blog post on "The Trembling Earth" blog on the American Geophysical Union's website, it is now clear that these were foreshocks.
Many people have speculated that the increased activity on the fault — which previously had been in a period of quiescence (the only section of the subduction zone not to rupture at some point in the last century and a half), leading it to be called the Iquique seismic gap — might indicate a "big one" was coming. But the challenge of foreshocks is that no one knows they are foreshocks until after a larger main shock occurs. Researchers still cannot rule out an even larger quake occurring in the near future.
For more on the quake, check out the aforementioned blog; to track aftershocks and read more about the geologic setting in which this quake occurred, check out USGS's Earthquake site.