Mapping field camp's past and present: Exploring a mainstay of geoscience education
by Timothy Oleson Friday, July 19, 2013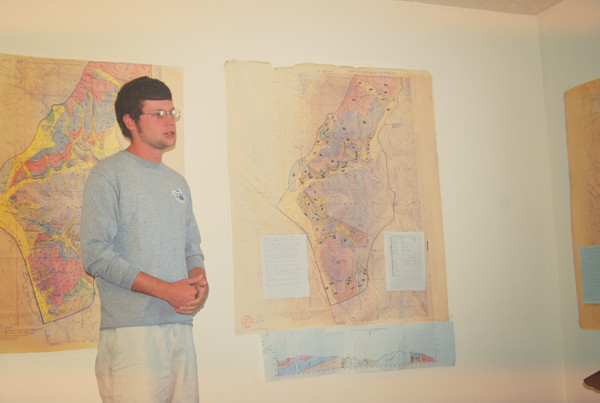 Every spring, troops of geoscience students set out to observe firsthand the minerals, rocks, folds, faults, unconformities, ore bodies and other features that populate the geological landscape. And by this time each summer, they (and the instructors brave enough to have accompanied them) have mostly returned home, sporting unkempt hair and sun-tanned limbs. These students — after putting knowledge and skills learned over several years to the test — are the latest group to have survived the rigors of geology's enduring rite of passage: field camp.
If recent trends hold, this season's total field camp attendance will be nearly 3,000 students. By the end, some of these students may have discovered a passion for field work and a newfound determination to pursue a career that keeps them outdoors; some may have recognized that their path in geology lies more in the lab; others may ultimately decide on a different career altogether. Regardless, most everyone returns from field camp — at least after a few weeks of rest and reflection — with a new appreciation for the science, a summer full of (mostly positive) memories and maybe even a few lasting friendships.
Formal field camps meant to train the next generation of geologists have been around for more than a century. In the intervening time, much has changed, including our understanding of Earth's inner workings, the demands of the academic setting and the geoscience workplace, and the available technology. So how does the modern field camp experience compare to those of the past, and how relevant does field camp remain today? (See slideshow here for pictures of field camps past and present and see finalists from an American Geosciences Institute "life in the field" photo contest here and the winner of a video contest here.)
For all that has changed, just as much, or more, has stayed the same. In particular, field camp directors say, the primary functions of field camp — to teach students to observe, think critically about and understand the natural complexity of Earth's geology in three dimensions — remain intact and a vital part of turning geoscience students into geoscientists.
Field Camp 101
Field camps have long been capstone courses — offered by colleges and universities — intended to test students' abilities to understand and apply in the field what they've previously learned in the classroom. Most undergraduate geoscience curricula require a field course of some sort, as do many graduate programs, and a majority of undergraduates typically attend weeks-long summer courses following their junior or senior year.
Each camp, and indeed each year at a given camp, features its own unique combination of geology, geography, curriculum, tools, techniques and personalities. Thus, there is no one description that fits all field camps — past or present. Most are spread across the U.S. West, although a few are scattered east of the Mississippi and abroad (see sidebar). And most have permanent base camps set up in, for example, ski lodges in area towns or log cabin encampments on National Forest Service land, although a handful operate as traveling and/or tent camps (see sidebar).
Field camps have been updated over the years in an attempt to best balance available resources with students' needs, but there are far fewer today than there once were. Citing the rising costs of administering camps and the folding of many smaller geoscience programs into larger departments as reasons for the decline, the 2011 "Status of the Geoscience Workforce" report published by the American Geosciences Institute (which also publishes EARTH) pointed out that 257 U.S. colleges and universities offered summer field camps in 1995. Currently, there are about 100 depending on how you count them: Some schools offer multiple camps, some team up as consortia to run single camps, and others offer in-semester, offseason or otherwise nontraditional camps.
In an effort to stay financially viable and to accommodate students who cannot or do not wish to spend the bulk of a summer in the field, existing camps — mostly run by large universities — are shorter on average than they once were. Within the last 30 years or so, once-standard eight-week camps have been almost entirely replaced by terms lasting three to six weeks. Many camps also accept outside students to boost attendance, and some, such as the University of Kentucky's camp, have in the last decade adopted an every-other-year approach.
Increased administrative costs have been passed on to students to an extent, although the single biggest portion of the expense comes as tuition charged for the credits earned, which is set by each school independent of the camps' operational costs. At Kentucky's camp, for example, tuition accounted for almost half of the $5,000 cost for an in-state student to attend this year, says Frank Ettensohn, a sedimentologist at the University of Kentucky who has been director of the school's summer field camp since 1976. Compared to tuition, fees to cover equipment, lodging and transportation have risen more modestly over the years, he says. Although field camp-specific scholarships help defray costs for some, most students still pony up several thousand dollars to attend. But other than room and board, what is it that they're paying for exactly?
The Heart of Field Camp
Historically, geologic mapping has been the single biggest focus of field camp instruction. Some camps assign patches of well-trodden territory, while others target previously unmapped areas. But no matter if students are considering Phanerozoic sedimentary sequences or Precambrian basement rock; flat-lying, folded or upturned strata; domes, faults, or any of a thousand other features, conventional wisdom, according to Ettensohn and other directors, holds that the best way to teach and learn about an area's geologic back story is to map it.
"Whether we're mapping groundwater plumes or the distribution of formations or biostratigraphic zones, whatever it is, mapping is at the heart of what we do as geologists," Ettensohn says. And, he says, comparing "what I did [as an undergraduate at field camp in Wyoming in 1968] and what we're doing now, there is a lot of similarity."
Almost all activities and assignments at the University of Kentucky's six-week camp in the Elk Mountains of central Colorado "go hand in hand with mapping," Ettensohn says. "Of course," he adds, "to map you have to know the [rock] units that you're mapping. And so our first week is pretty much nothing but how to measure [stratigraphic] sections and describe sections, and then the students … use that knowledge for mapping for the rest of the season."
A glance at virtually any modern field camp syllabus reveals that the traditional emphasis on field mapping is still alive. Indeed, some camps map from beginning to end, an approach intended to ground students in the fundamentals of field geology, but also one that may be necessary in some cases.
For one thing, shorter terms simply leave less time for instruction. Additionally, at camps hosting students from a variety of schools, the students often arrive having taken different classes taught at different levels.
"We get a wide diversity of backgrounds … in terms of the students' preparation," says Phil Brown, an economic geologist at the University of Wisconsin at Madison and director of the Wasatch-Uinta field camp, which has been jointly run near Park City, Utah, by a varying consortium of universities since its inception in 1967. (Currently, the Wasatch-Uinta consortium consists of the University of Illinois at Urbana-Champaign, Michigan State University, the University of Minnesota at Duluth and the University of Wisconsin at Madison, although it also accepts students from other schools.)
Brown says that the diversity is nice for the students, who can interact with new groups of peers and instructors, but that it's challenging to "meet all of them where they are [academically] and advance them mentally." It takes time to ensure students are all on the same page going into assignments, he says. As a result, the mapping-intensive Wasatch-Uinta camp is still "a very traditional field camp," Brown says. "We haven't really branched out" to mix in many other types of field activities.
In With (a Little Bit of) the New
Some camps have made changes to their programs recently, realizing that in order to stay relevant, students must be exposed to modern job- and industry-related experiences — shooting seismic lines to examine subsurface features, for example. Even at these camps, however, the first several weeks are typically dedicated to the fundamentals of measuring and mapping.
"We still maintain our basics. … But we now give students a few more options as well," says Miriam Barquero-Molina, director of the University of Missouri at Columbia's field camp situated in Wyoming's Wind River Mountains. Missouri's camp used to run eight weeks and involve a lot more mapping, she says. It was shortened to six weeks more than 30 years ago, and then about 15 years ago, the last two weeks were set aside for instruction in hydrogeology, geophysics, advanced structure and, recently, geomorphology. After rotating through one-day field tutorials in each subject, students complete an individual project in the specialization of their choosing during the final week of camp.
The changes have happened largely, Barquero-Molina says, because employers in the geosciences — environmental consulting and energy exploration firms, for example — look for students who have experience using the tools of the trade. The topics covered in the last two weeks are disciplines that students might otherwise have only encountered in a classroom. "Not a lot of folks have the wherewithal to go out and shoot a seismic line, and we have the opportunity to do that," she says. "That sort of hands-on experience is … something that students find very valuable."
Other schools have created separate camps dedicated to particular specializations. The University of Minnesota at the Twin Cities, the University of Texas at Austin and others run three-week-long hydrogeology camps, for example. And the Black Hills Natural Sciences Field Station — a consortium-run program hosted by the South Dakota School of Mines and Technology — leads a variety of specialized camps that focus on geological engineering, hydrogeology and volcanology, as well as a more traditional geology field camp.
In the last dozen years, even the "very traditional" Wasatch-Uinta camp has begun taking its crew each year on a three-day trip to Utah's San Rafael Swell, where the students get a crash course in oil exploration geology. "It's mapping with a mission," Brown says, where students learn to interpret how surface features might relate to what lies below the surface. An excursion to an active mining operation in Nevada serves a similar purpose. Brown says the field trips act as "substantial introductions to potential job directions" and give students an opportunity to gauge whether such professions are a good fit for them.
Mid-camp trips away from home base — a common occurrence today — also offer exposure to a wider array of geologic features, and they give students a chance to see the local geology they've been poring over in a broader perspective. The University of Kentucky's camp, for example, takes students on a week-long tour of national parks and other famous features in the western U.S. — Mesa Verde, Monument Valley and Shiprock, to name a few. "We want our students to understand something about the regional context," Ettensohn says. "The geological history, the rising and falling of mountain ranges, the influx of seas and things like this all play a role in the units that they're mapping."
Integrating Technology
While learning to map remains at the heart of field camp, there have been modernizations in how field observations and the resulting maps can be made. Gone are the days when students commonly used old-school surveying tools — tripod-mounted plane tables, for example — to first produce a topographical map before overlaying their geologic observations on it. Easy-to-use, GPS-equipped portable computers, loaded with mapping software and apps designed to collect and process information about outcrops — rock type, location and orientation, for example — have simplified the task of recording that information by hand and integrating it to produce a geologic map on paper.
But striking the right balance between incorporating technologies and ensuring that students still grasp the underlying techniques and science has emerged as a challenge for camp organizers. Pre-made paper topographical maps, high-resolution aerial photos and GPS have become virtually ubiquitous, and some camps have experimented with letting students use tablet computers and smartphones in the field. But most camps seem to have taken a cautious approach toward incorporating technology.
Professional geologists would, of course, "have a computer-based mapping tool where it would have a digital elevation map and an air photo overlaid on it, and you'd be putting the geology right on that" in the field, Brown says. But such tools can become distractions or crutches for students just learning to map and for whom, in many cases, field camp provides the first practical application of the geology they've learned in class, he says.
Students at Missouri's field camp use advanced devices to test surface and groundwater samples and to collect shallow seismic data, but those elements aren't introduced until the last third of the camp, Barquero-Molina says. For the first four weeks, "we're fairly old school as far as technology goes … It's a Brunton compass, a rock hammer and paper maps," she says. "We still want our students to be able to locate themselves on a topographic map. We still want our students to be able to draw geology on a topographic map, because that is the true test of whether or not you understand what you're seeing around you."
Ettensohn cites the benefit that advanced mapping tools can help improve the eventual presentation and communication of field data after they're mapped. He says Kentucky's camp will begin integrating GIS (Geographic Information Systems) in 2013, but that "it's going to be very small" to start. "I don't think technology will ever fully replace … the need to actually walk that ground and observe those formations yourself." That experience can be invaluable for buoying one's confidence as a young geologist, he says.
Taking a Different Approach
Many field camps have also updated their approaches to teaching and evaluation. Faculty members from other universities, colleges or agencies are routinely brought in as outside instructors, for example.
New twists on conventional assignments can  provide participants with important experience. Students at the Wasatch-Uinta camp are introduced to the concept of addressing a research conference audience by writing "300-word GSA [Geological Society of America]-style" abstracts in place of a standard project report or rock description.
And, over the last decade at the University of Kentucky's camp, groups of participants have operated as mock businesses, complete with company names. Each business earned "geobucks" based on the quality of their work, "and they could also hire [the instructors] as consultants, realizing that sometimes you have to spend money to make money," Ettensohn says. But the main idea was to get students to recognize each other's strengths and weaknesses and to work together as teams, he says, to emulate professional work environments.
In the past, even if students were grouped together for safety purposes, they were typically working on assignments individually, Ettensohn says. Although most camps maintain some assignments to test each student's individual understanding, the team approach has caught on.
"Working with other people brings a certain amount of enrichment to the experience that working alone doesn't," Barquero-Molina says. As an undergraduate in Spain and then Ireland, Barquero-Molina had quite a different field experience than the one she now presides over. "I was dropped off in the middle of nowhere, given a [nontopographic] map from 1898 … and told to go off and map [geology] in the Connemara Mountains in Ireland" alone for eight weeks, she recounts. That's when she fell in love with field geology, she says, but at the same time, when you're alone, "you're trying to figure out what you're doing for about half that time." Small groups of two or three students working together are the ideal size, she says: The group setting doesn't detract substantially from the individual learning experience, and "the opportunity to bounce ideas back and forth … cannot be underestimated."
Field Camp's Lasting Importance
In a 2001 op-ed in the Journal of Geoscience Education, the journal's editor, Carl Drummond, wrote that "the role of field camp as the capstone course of the undergraduate experience is fast fading in importance" in the United States. Citing the decline of domestic mining and petroleum exploration, an ongoing transition from observational to more experimental and theoretical approaches to research, dwindling numbers of geoscience majors (perhaps compared to the heyday of geoscience departments in the early 1980s, although undergraduate enrollment in 2001 was at or above what it had been through much of the 1990s) and increasing costs for geoscience departments, he asked, "Is there a place for field camp in the future of geoscience education?"
Drummond contended that in order to remain relevant, field camp "must change pace with our changing discipline." Perhaps through a combination of updates to the traditional field camp experience and dramatic shifts in outside trends — namely, the recent boom in domestic energy exploration and production — this change of pace has occurred.
Undergraduate enrollment in geoscience departments has grown quickly in the last six years. And student field camp attendance has been climbing steadily over the same period. Brown, Barquero-Molina and Ettensohn all say they saw a spike in applications for the 2013 season, even over the previous year, and that they had to close admissions earlier than normal. "We don't have an issue right now finding customers," Barquero-Molina says.
Whether there will be space in the limited number of camps to fit the growing demand remains to be seen, as does the question of "whether universities can continue to see the value of the field experience for their students," Brown says. Companies in the geosciences certainly do, he adds. They "want to hire people who have gotten out from behind their computer screens" and who have the ability to comprehend and communicate in the language of geology.
Despite it being "a huge time and money commitment," Brown says he encourages all of his students to attend a camp whenever and wherever it fits their schedule. Beyond being worthwhile from a career development standpoint, he says, the overall experience is one that "almost everybody looks back extremely fondly on" later in life.