Mag.-8.9 quake strikes Japan, tsunami heads for Hawaii
by Carolyn Gramling Thursday, January 5, 2012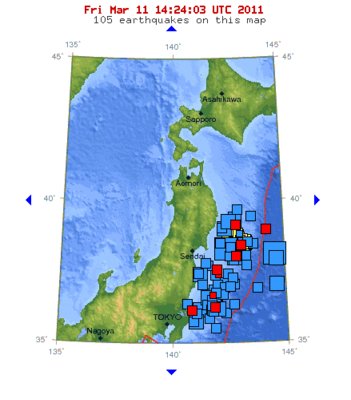 A powerful magnitude-8.9 earthquake struck near the eastern coast of Honshu, Japan, today at 2:46 p.m. local time. The quake sent a tsunami racing across the Pacific Ocean to Hawaii, making landfall just before 3 a.m. local time. The Pacific Tsunami Warning Center has more information.
The quake was the result of thrust faulting near the subduction zone interface between the Pacific and North America plates. Callan Bentley's blog at AGU has an informative post detailing the geology of the quake.
For some earthquake and tsunami pictures go here.