Looking for life in coldest, driest Antarctica
by Mary Caperton Morton Thursday, April 21, 2016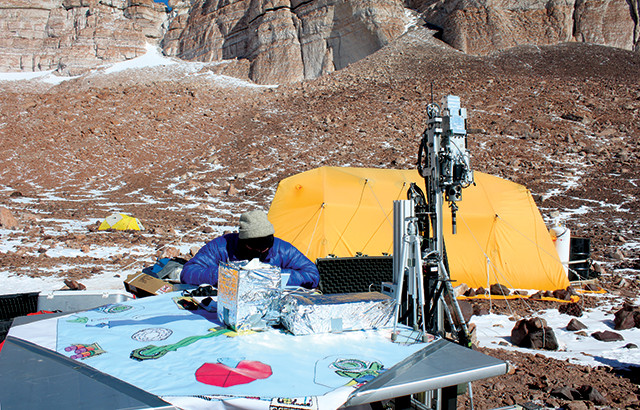 Antarctica is nicknamed the "White Continent," but one site — University Valley in the continent's McMurdo Dry Valleys region — has remained virtually snow-free for more than 150,000 years, making it the coldest, driest desert on Earth. For the past four years, researchers involved in NASA's ASTEP (Astrobiology Science and Technology for Exploring Planets) program searched for signs of life in the valley because it is thought to closely resemble the northern polar regions of Mars where the Phoenix spacecraft landed in 2008. In a new study, though, the team reports that it came up empty-handed, confirming that University Valley is indeed one of the least-habitable places on Earth.
The team, led by Jacqueline Goordial of Canada's McGill University, tested the IceBite auger, a drill designed to bore into Martian permafrost. After collecting ice and sediment samples from two boreholes, the team performed a battery of experiments in the field and in the lab, including testing for DNA and attempting to stimulate microbial growth from the samples collected at the site, but none of the tests showed any signs of life.
"Going into the study, we were sure that we would detect a functioning and viable microbial ecosystem in the permafrost soils of University Valley, as we and others have done in Arctic and Antarctic permafrost, including in other sites at lower elevations in Antarctica," said Lyle Whyte, a microbiologist also at McGill University and co-author of the new study, published in The ISME Journal, in a statement. "It is hard for us to believe that we may have reached a cold and arid threshold where even microbial life cannot actively exist."
The results indicate that finding life in similar conditions on Mars is unlikely, but, on a positive note, the team wrote that any microorganisms accidentally transported to Mars from Earth are unlikely to survive on the Martian surface; such contamination is a concern in planetary exploration efforts.