Lidar preserves record of destroyed theropod tracks
by Mary Caperton Morton Tuesday, April 10, 2018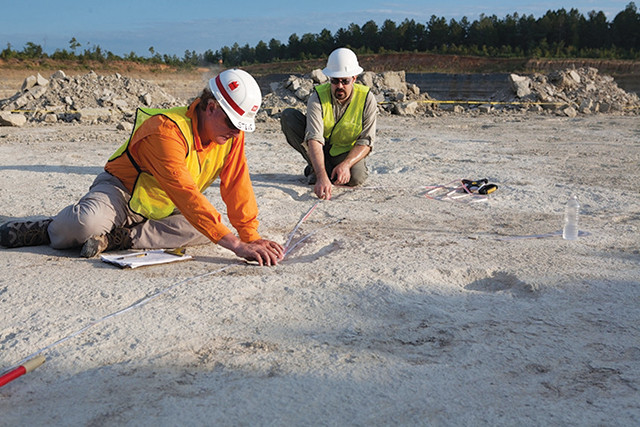 In 2011, the first theropod dinosaur tracks ever discovered in Arkansas were uncovered at an active gypsum quarry near Nashville in the southwestern part of the state. Over two weeks, researchers collected a set of high-resolution digital scans of the trackway that has now allowed scientists to piece together its 100-million-year-old story, even though the tracks have long-since been destroyed by mining operations.
Funded by an emergency RAPID grant from the National Science Foundation, a team from the University of Arkansas and the University of Mississippi used lidar equipment mounted on a crane above the trackway to image the site. The tracks, embedded in a layer of limestone in the De Queen Formation, were grouped in eight theropod trackways of varying sizes and appeared alongside isolated tracks from various sauropods and other animals.
In a new report published in PLOS One, the researchers ascribed the theropod tracks to adult and juvenile specimens of Acrocanthosaurus, a genus of large, carnivorous dinosaurs. The discovery represents the easternmost occurrence of Acrocanthosaurus, extending its known range east by 90 kilometers. Desiccation cracks, salt crystal casts and interbedded gypsum also found in the limestone suggest the tracks were made in a shallow intertidal mudflat in the mid-Cretaceous.
The De Queen trackway, now viewable online, adds another example to the growing list of dinosaur and other fossil trackways preserved using lidar. "These data not only allow conservation of the scientific value of the now-destroyed site, but they also allow unlimited access to researchers and the public alike," wrote Brian Platt of the University of Mississippi and colleagues in the study.