Lava shaped Lake Tahoe
by Mary Caperton Morton Tuesday, May 1, 2018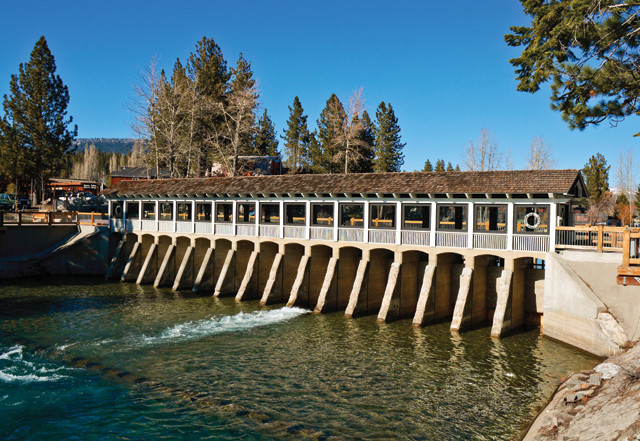 With its preternaturally clear blue waters, Lake Tahoe is tranquil today, but the deep lake straddling the border of California and Nevada was once the site of repeated lava flows. In a new study, researchers used radiometric argon dating to describe how episodes of volcanism created the landscape around the largest alpine lake in North America.
A small, volcanic field lies along the northwest shore of Lake Tahoe, where the lake flows into the Truckee River. In the new study, published in Geosphere, the researchers mapped, sampled and analyzed the succession of lavas that formed the field. Their work revealed that the lavas and pyroclastic materials erupted from seven vents in at least three episodes of volcanism starting roughly 2.3 million years ago.
Using radiometric dating, the team constrained the timeline of changing shorelines through these periods of volcanism, which raised lake levels above today's elevation of 1,897 meters above sea level. The lake's outlet to the Truckee River was dammed when the first episode began about 2.3 million years ago; this raised the lake level by about 150 meters, from about 1,896 meters above sea level to 2,048 meters. Another flow 2.1 million years ago dammed it again, raising the lake level from about 1,914 meters to 2,073 meters. Then, about 940,000 years ago, another flow raised the lake level to 2,085 meters. These three raised shorelines indicate that the present outlet of Lake Tahoe through the Truckee River Canyon has existed for at least 2.3 million years.
The findings may be relevant to assessing future volcanic hazards around the now-heavily populated lakeshore. "The timing of this repetitive volcanic activity raises implications for future volcanic eruptions and their hazards," said co-author James Moore of the U.S. Geological Survey in Menlo Park, Calif., in a statement. "The lake could be dammed by lava again, causing extensive shoreline flooding as its level rose, or rapid dam failure could cause extensive downstream flooding along the Truckee River on its path to Reno."