Large earthquake rocks Iran oil port
by Brian Fisher Johnson Thursday, January 5, 2012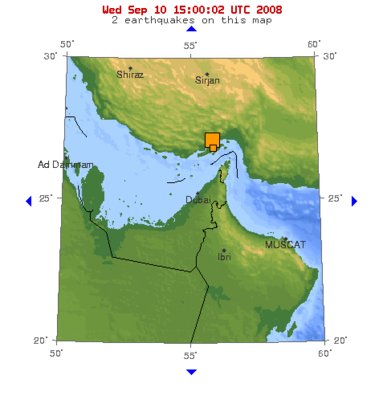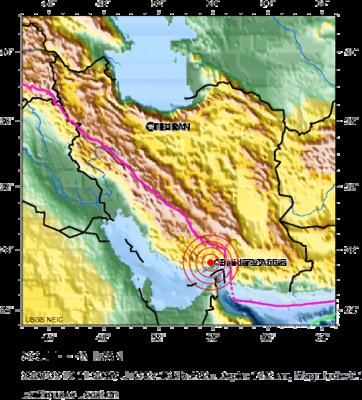 Wednesday, Sept. 10, 12:30 p.m. EDT — At 3:30 p.m. local time, a magnitude-6.0 earthquake struck Iran near the southern port city of Bandar Abbas. Tremors from the quake were felt as far away as the United Arab Emirates and Qatar, according to the U.S. Geological Survey.
USGS detected a magnitude-4.8 aftershock about 30 minutes after the quake, although John Bellini, a geophysicist at the National Earthquake Information Center in Golden, Colo., says that many other aftershocks have and will bypass U.S. detection.
"We can't record anything smaller than a [magnitude] 4 or 4.5 over there because we don't have as many instruments there as we do in, say, Southern California," Bellini says.
The most recent reports from the Associated Press put the death toll at four people, but possibly more, with 26 people injured. No reports of damage larger than collapsed furniture have yet come through.
Although research in the region is too minimal to pinpoint the quake to a specific fault, NEIC geophysicist Julie Martinez says the quake was likely a result of the general convergence of the Arabian and Eurasian plates. The convergence zone runs near Bandar Abbas, one of the country's main oil ports. The earthquake's origin was about 45 kilometers west of Bandar Abbas, at a depth of about 14 kilometers, according to USGS.
While Iran experiences an average of one small earthquake a day, this morning's quake was particularly significant because of its proximity to oilfields in the city. Reuters reported no damage to oil sites there.
Today's event is minor compared to a magnitude-6.4 earthquake in 2005 and a magnitude-6.6 quake in 2003 in Bam in southeastern Iran, which killed 1,400 and 26,000 people, respectively.