Large earthquake rattles Baja California
by Carolyn Gramling Thursday, January 5, 2012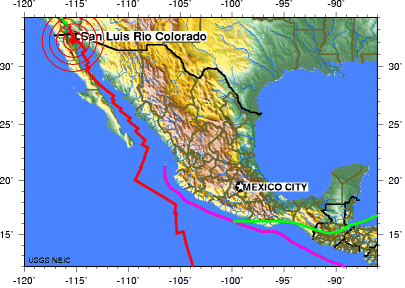 A magnitude-7.2 earthquake struck northern Baja California, Mexico, at about 3:40 p.m. local time Sunday, according to the U.S. Geological Survey. At least two people were killed, several hundred were injured and thousands were without power as a result of the quake. Aftershocks as high as magnitude 5.0 have continued to rattle the region today.
The quake occurred along a highly seismically active plate boundary, where the Pacific Plate is moving northwest relative to the North American Plate. USGS' Earthquake Hazards Program notes that the mainshock of Sunday's quake likely occurred along a strike-slip segment of the plate boundary, the southeastern part of the Laguna Salada fault; however, there are several active faults in the region, and to determine whether this is indeed the fault that slipped, seismologists will need additional confirmation, such as evidence of surface rupture. The Laguna Salada fault zone extends from the California-Mexico border into northern Baja. The epicenter of the earthquake was shallow, only 10 kilometers deep, and was located about 26 kilometers southwest of the Mexican town of Guadalupe Victoria, and 167 kilometers east-southeast of Tijuana.
This part of Baja has experienced numerous powerful earthquakes over the past 100 years, including a magnitude-7.0 that struck the region in 1892, and a magnitude-7.0 or -7.1 earthquake that occured in 1915.