Killer quake strikes New Zealand
by Erin Wayman Thursday, January 5, 2012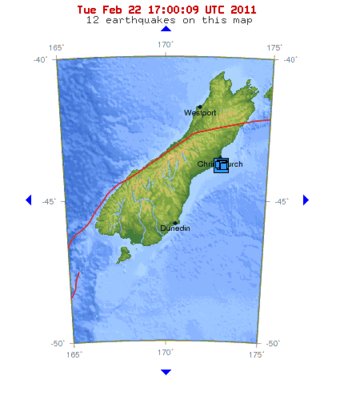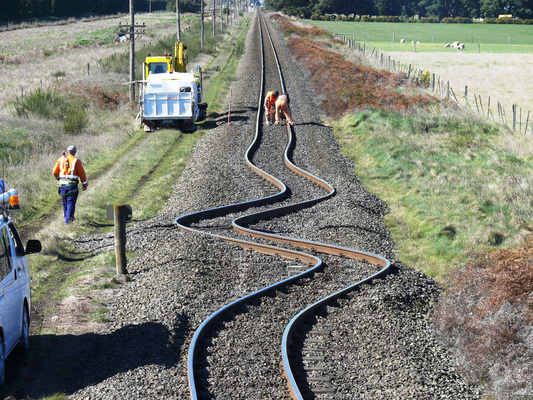 A magnitude-6.3 earthquake struck Christchurch, New Zealand, at about 1 p.m. local time Tuesday. The quake killed at least 65 people and buried 100 more in rubble. The U.S. Geological Survey (USGS) reports that the quake was an aftershock of an earthquake that hit the region last September.
New Zealand experiences frequent seismic activity because it sits on the plate boundary between the Pacific and Australian plates. Much of the displacement between these two plates occurs along the Marlborough fault system, a complicated system that passes through New Zealand's South Island. The Marlborough fault system consists of four large strike-slip faults and other, smaller strike-slip and thrust faults.
The mainshock — caused by strike-slip faulting within the Pacific Plate, according to USGS — was a magnitude-7.0 earthquake that occurred 45 kilometers west of Christchurch on Sept. 4. Since then, numerous aftershocks have struck east of the main event, but Tuesday's earthquake was the largest, easternmost aftershock and occurred at a shallow depth of only 5 kilometers, producing intense ground-shaking. The aftershock was the result of oblique-thrust faulting, USGS reports.
In the hours following the magnitude-6.3 event, Christchurch experienced additional large aftershocks, including a magnitude-5.6 event and a magnitude-5.5 event. In addition to damaging numerous buildings — including Christchurch's 19th century cathedral — the shaking broke off 30 million metric tons of ice from New Zealand's largest glacier, the Tasman Glacier, located almost 200 kilometers away in the country's Southern Alps, CBS reported. The chunks of ice plunged into a lake, creating 3.5-meter-high waves.