Kilauea increases asthma risk
by Kate S. Zalzal Wednesday, September 28, 2016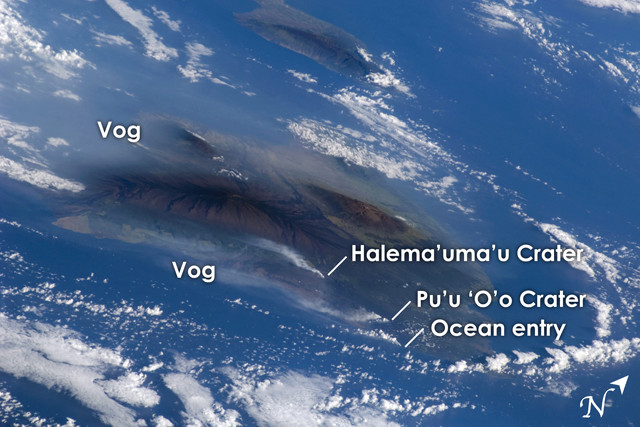 Kilauea may be best known for its picturesque red lava flowing into the ocean, but new research presented this week at the Geological Society of America annual meeting in Denver, Colo., suggests that locally, the volcano may be known for something more dangerous: asthma. The new study links gaseous eruptions from the Hawaiian volcano to increased asthma risk for those living downwind, especially children.
Sulfur dioxide and other gases can be emitted during volcanic eruptions, often forming a downwind fog, known commonly in Hawaii as vog. Anthropogenic sulfur dioxide is a known trigger of asthma attacks, but little work has been done looking at asthma epidemiology at volcanoes. Epidemiologist and nurse, Bernadette Mae Longo, from the University of Nevada, Reno, began investigating the effects of vog when working with her volcanologist husband at Kilauea. "As a nurse, I look at the human interaction with the environment," she says. "What is it like for people to live here at Kilauea in the vog?"
Her previous work noted the potentially dangerous concentrations of sulfur dioxide and fine aerosol in the Kilauea gases that were moving through surrounding communities. Published in Geology in 2005, the study prompted the first vog legislation in Hawaii and led to the establishment of vog monitoring stations on the island.
Longo then initiated a seven-year community cohort project documenting the number of people in communities downwind and upwind from Kilauea who sought medical care in response to asthma attacks. During the project, which ran from 2004 to 2010, 1,442 asthma-related medical visits occurred in response to vog exposure.
Kilauea has erupted near-continuously since 1983. But in 2008, partway through Longo's study, the Halemaumau crater of Kilauea explosively erupted, sending huge volumes of gas and dust downwind. This gave Longo the opportunity to compare asthma incidence rates before, during and after the event.
During the normal years consisting of effusive eruptions, those exposed to vog were three times more likely to have an asthma attack than those upwind. Following the summit eruption, the incidence rate nearly doubled for those exposed. The impact was strongest on children.
Longo says this work shows that distance matters: People closest to the volcano showed higher incidence rates. She also found the increased risk of asthma attacks to be more dependent on local sulfur dioxide concentrations rather than the concentration at the mouth of the volcano.
"It's important to remember that vog is a mixture of pollutants, not just sulfur dioxide," Longo says. "During the 2008 eruption, there was continued lava-to-sea entry which we know releases hydrochloric acid aerosol, a very potent respiratory irritant. I would love to see more work done on the transport and composition of the vog downwind of that."
Longo says it is critical to inform people of the potential for dangerous vog levels so that they can best manage their asthma. This includes making sure clinicians, families and teachers are well-educated and aware of the early signs of an asthma attack and are prepared, particularly during high vog periods. "People need to know the vog is coming," she says.
"Of course we can't turn off the volcano, but we should make sure the vog-affected population is getting the best evidence-based, culturally sensitive care for their asthma, whatever that might look like," she says.