Kaikoura quake jumped from fault to fault in New Zealand
by Lucas Joel Thursday, February 16, 2017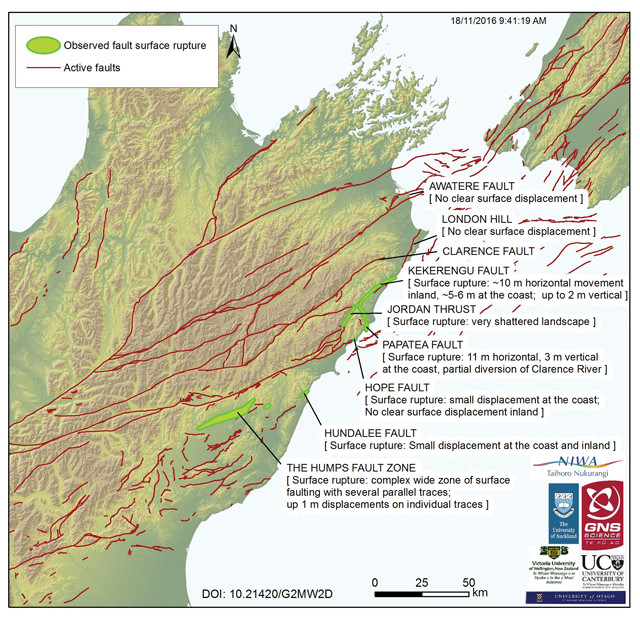 A magnitude-7.8 earthquake struck New Zealand's South Island at about midnight on Nov. 14, 2016, causing two fatalities, triggering a tsunami and multiple landslides, and destroying infrastructure across the region. Known as the Kaikoura earthquake, it is the largest quake to hit New Zealand since 2009, and it appears that the rupture jumped from one fault to another multiple times as it propagated. The event is still being investigated, but at the time EARTH went to press, at least 10 faults are reportedly thought to have been involved.
The rupture began about 15 kilometers underground near the town of Culverden. There was a "domino effect, as the earthquake rupture jumped from fault to fault, essentially 'unzipping' along a 150-kilometer length of the northeast coast of the South Island," wrote Natalie Balfour of New Zealand's earthquake monitoring agency, GeoNet, in a blog post. With several GeoNet seismic monitoring stations nearby, it "is arguably the most complex earthquake rupture ever to be observed in this level of detail with modern instrumentation," she wrote.
Rupture along the Kekerengu Fault displaced a house and road by as much as 10 meters, and the quake raised parts of the South Island's coastline above sea level by as much as 2 meters, according to data released by NASA. In a video posted to YouTube, GNS Science geologist Kelvin Berryman explained that, at Waipapa Bay along the Papatea Fault, one fault wall probably ruptured at a speed of about 3 kilometers per second, exposing what was once shallow seafloor to the air.