Impossible Odds, Irrepressible Hope: Pakistan's water woes and the science that can solve them
by David Hebert Thursday, January 5, 2012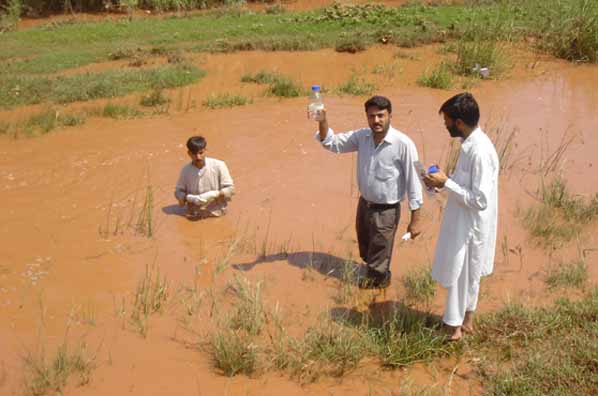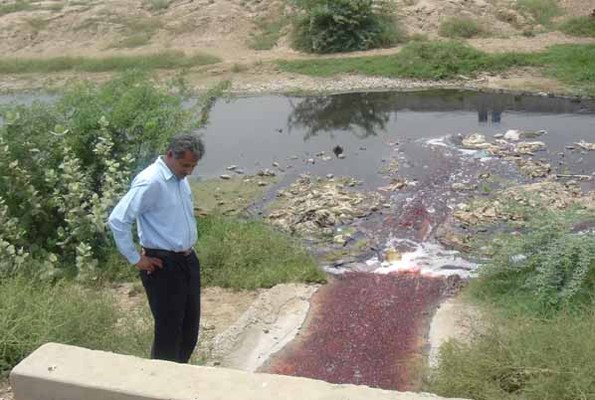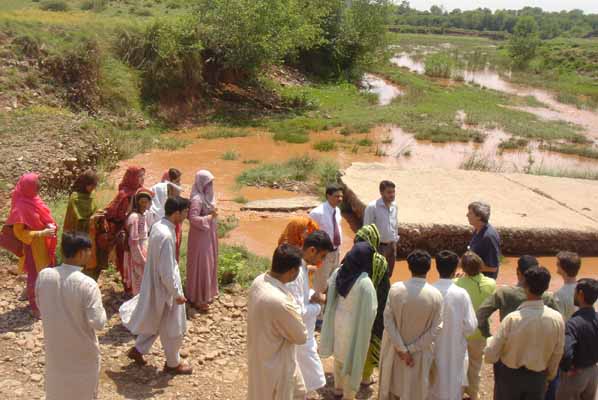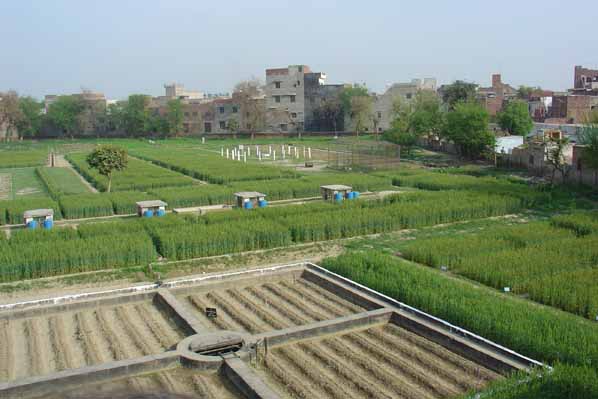 Most residents of developed countries don't think about their water running out or worry about their water leading to the death of their children. In Pakistan, those are distinct possibilities.
Data from Pakistan's government indicate that the country's annual per capita water availability is less than 1,000 cubic meters per person — down from 5,650 cubic meters per person in 1960; by comparison, the per capita water availability in the U.S. is 9,800 cubic meters. Climate change, population growth and an overly stressed irrigation system supplied by the country's main rivers, including the Indus, threaten to make water even scarcer. By 2025, that yearly per capita availability could be cut in half, dropping to approximately 550 cubic meters.
"If Pakistan doesn't manage its water resources differently, it's going to run out of water," says Suman Paranjape, a molecular virologist and American Association for the Advancement of Science Fellow with the U.S. Department of State's Biosecurity Engagement Program in Washington, D.C.
"Of the countries we work with in the South Asia region, Pakistan is probably in the most trouble, in terms of water availability and water quality," Paranjape says. As if the scarcity of water were not enough to contend with, the limited water that the country does have is often dangerously polluted. Pakistan's water contains pesticides, toxic chemicals, industrial pollution and untreated sewage. In urban areas, sewage seeps into drinking water supplies because of deteriorating infrastructure. Approximately 250,000 children die each year in Pakistan from waterborne diseases.
Questions about water quality, however, are moot if the water simply isn't there. Thus the U.S. Geological Survey (USGS), U.S. Department of State and aid groups, including the U.S. Agency for International Development, are partnering with Pakistani government scientists through the U.S.-Pakistan Strategic Dialogue and other projects. The goal of these efforts is to help this developing nation devise sustainable water management practices to improve the health of its people and its economy.
"Pakistan has a long and proud history of developing and managing its water resources," says Muhammad Aslam Tahir, chair of the Pakistan Council of Research in Water Resources (PCRWR) in Islamabad. However, Tahir adds, mounting stresses on its water supply present a great challenge to a country with public health, economic and geopolitical concerns.
A precarious setting
On one side, Pakistan borders Afghanistan, the focal point of a global terrorism conflict that has sent hundreds of thousands of refugees into Pakistan, straining its resources even more. On the other, Pakistan borders India, a country with which it has been at odds over many issues — including water rights on the Indus River — since Pakistan won independence in 1947.
Pakistan's water problems begin with one of its largest water resources, the Indus River, which is being overworked. The Indus drops down out of the western Himalayas, traveling through India before eventually making its way into the northeast corner of Pakistan. As it runs most of the length of Pakistan before emptying into the Arabian Sea, the Indus and its tributaries supply most of the water for Pakistan's irrigation system, the largest contiguous irrigation network in the world and the foundation of the nation's agricultural industry, which supports about 45 percent of its population and 25 percent of its gross domestic product. However, of Pakistan's irrigated land, about 40 percent is waterlogged and 15 percent is saturated with salt from saline water, making it difficult to grow wheat, cotton, rice and other crops.
Some areas of the country rely predominantly on groundwater for both irrigation and drinking water, and it is being pumped at unsustainable rates. For example, water levels in the Quetta sub-basin aquifer in west-central Pakistan have dropped so dramatically that it is estimated that the aquifer will be dry in 20 years.
The public water supply in urban areas is also running out. In Lahore, Pakistan's second-largest city, the local water supply agency has had to more than double water output since 1997. That isn't meeting demand, however, so some residents now pump their own groundwater using electric pumps, which has led to a supply divide between the wealthy who can afford to pump and everyone else who can't.
Lahore, like most cities in Pakistan, relies on groundwater (which is often salinated and polluted to the point of being unpotable) for its water supply. The city has seen the water table drop anywhere from 1.5 to 20 meters in the past five years because the rate of pumping is outpacing the rate of recharge in this arid and growing metropolis. And as the water table drops, residents are finding that their wells are coming up dry (or contaminated) because their small electric pumps can only reach shallow depths.
The problem isn't a total lack of water; it's the seasonal variability of water supply and the lack of adequate management. For example, in the parts of the country that see significant rainfall from seasonal monsoons, such as Rawalpindi, Peshawar and Quetta, due to a lack of infrastructure and improper drainage, water runs off and often leads to flooding in downstream areas — like it did in July and August, killing thousands of people — instead of being captured and stored at levels useful to larger populations. In the province of Sindh, conversely, some farmers located near the end of irrigation canals are left without sufficient water for their crops.
This already-tight situation could be exacerbated by climate change. "Some of Pakistan's issues are similar to what we face in the western United States: high groundwater withdrawals, pesticides, moving water long distances," says Kim Taylor, a USGS hydrologist based in Sacramento, Calif., and project manager for Pakistan water quality and data management efforts at USGS. And like the American West, she adds, Pakistan "is going to end up with worse problems due to climate change. Its glacial supplies are shrinking, similar to California's snowpack."
The impact of climate change in Pakistan is like a sword that cuts both ways: As glaciers in the warming western Himalayas retreat and release water, some areas of the Indus Basin have repeatedly flooded. According to estimates in a 2005 World Bank study, the glacial gushes will continue for 50 years or so, after which these natural reservoirs will be drained. The situation will then reverse, and within a century, the Indus Basin could see a 30 to 40 percent decrease in river flows from normal levels. That could be disastrous.
To help Pakistan prepare for its future, USGS has proposed to, among other things, work with Pakistan's Water and Power Development Authority, the Pakistan Meteorology Department and other regional authorities to map and understand the distribution and quantity of its water resources and what impact a changing climate could have on them. The scientists in the partnership would like to use current and historical climatological and hydrological data, satellite imagery, aerial photography and other remote sensing techniques to assess Pakistan's current rainfall, ice, snow, groundwater and surface water, and then would use modeling techniques to estimate the potential effects climate change would have on Pakistan's water resources.
However, the challenge of climate change is further exacerbated by Pakistan's lack of adequately maintained infrastructure. The country also needs more large dams and reservoirs to store water supplies. But building such infrastructure is costly and controversial, and even if they could store more water, it might not be of sufficient quality.
Poor quality
Getting water is one concern in Pakistan. Another concern is dealing with the scary things in the water. Almost two-thirds of the water for public supply — that is, drinking, bathing and other household uses — is contaminated with everything from untreated sewage to industrial waste to pesticides and fertilizers. Wastewater seeps into supply water because the degraded pipes for both often occupy the same ditches in urban areas; in Faisalabad, Pakistan's third-largest city, canals run different colors because dye from Pakistan's cotton industry is dumped into them.
"There is a lack of wastewater treatment facilities and a lack of enforcement of regulations," says Ingrid Verstraeten, a hydrogeologist and former program coordinator for USGS' Pakistan water programs and current USGS regional specialist for Europe and Central Asia, based in Reston, Va. "The quality issue of most concern is contamination with microorganisms. According to colleagues at the Pakistan Medical Research Council, diarrheal diseases cause high mortality in children."
"When we compare our water issues — in the United States — to theirs … we're only looking for the most dangerous things here," says Joseph Duris, a USGS microbiologist at the USGS Michigan Water Science Center in Lansing who has worked with Pakistani scientists on water quality issues. "There, it's common to have widespread issues with a variety of contaminants."
And it's not just the people who are subject to the poor water quality. "The high pollution level of rivers and groundwater has led to different environmental consequences, such as reduction of biodiversity and a decrease in agricultural productivity," says Hifza Rasheed, a microbiologist and director of the PCRWR National Water Quality Laboratory in Islamabad.
Pakistan has been addressing these problems. The country created a water quality program in 2001 and has built and improved office and laboratory facilities, developed low-cost water testing and treatment kits, installed 24 water filtration plants, and assessed more than 10,000 water supply systems around the country. But they still have a long way to go. In recent years, the State Department, USGS and other organizations have teamed with Pakistan to improve the country's water resource management even more. But if the magnitude of the issues is any indication, mitigating them will be a significant challenge.
Partners working to quantify the issues
USGS' partnership with Pakistan began in 1953, when USGS helped Pakistan establish its own geological survey, among several other cooperative activities. In 2003, the U.S. State Department and the Pakistani Ministry of Science and Technology signed an agreement to increase cooperation in science, technology, engineering and education, and in 2004, USGS began working with Pakistan on water research. The State Department supports USGS through its congressionally funded Biosecurity Engagement Program, whose mission entails increasing capacity for surveillance and laboratory diagnostics.
As a result of the Strategic Dialogue meeting in Islamabad last July, U.S. Secretary of State Hillary Clinton recently announced a multiyear Signature Water Program for Pakistan to improve Pakistan's ability to increase efficient management and use of its scarce water resources and improve water distribution. The first phase of the program will entail seven projects costing more than $270 million and focusing on rehabilitation of water supply, improved management of municipal services, flood control, improved irrigation techniques, water storage and distribution, and science and technology exchange.
USGS is actively working with scientists of PCRWR to make these goals a reality. PCRWR began operating in 1964 under a different name, but the mission has remained the same. The council promotes, facilitates, organizes and conducts water science research and creates related publications and data. When USGS began working with PCRWR, one of the first priorities was to develop a water quality lab and microbiological testing program because of Pakistan's trouble with pesticides, sewage and other contaminants. That involved a lot of trips back and forth between Pakistan and the U.S., and that collaboration has borne fruit far beyond frequent flier miles. Pakistan now boasts its own National Water Quality Monitoring Laboratory, modeled after the USGS lab of the same name and, by the end of the year, the country will also have an integrated, nationwide water database.
"The PCRWR scientists wanted to go beyond finding normal indicators like E. coli and learn how to target specific bacterial pathogens," such as salmonella, says Duris, who, along with several USGS colleagues, hosted PCRWR scientists at the USGS Michigan Water Science Center in 2009.
Since 2004, USGS' work with Pakistan has included a variety of water resource assessments and monitoring projects, and the use of geographic information systems. USGS has also shared with Pakistani scientists techniques for field collection, data entry, data analysis and interpretation, technical writing and outreach. The results of Pakistan's water quality monitoring have been telling.
Pollution is most problematic in and around large cities, where scientists have found hazardous industrial wastes, including toxic chemicals, heavy metals, pesticide products, municipal wastes and untreated sewage water, in natural water bodies. Waterborne diseases — such as cholera, typhoid, dysentery, hepatitis, giardiasis, cryptosporidiosis and guinea worm infections — account for about 80 percent of all diagnosed diseases in Pakistan and are responsible for more than 30 percent of deaths in the country.
In the city of Rawalpindi, home to almost 2 million people, human waste and untreated sewage water were in an estimated 64 percent of the city's drinking water supply, the city's Water and Sanitation Agency has found. Furthermore, studies by Pakistan's Environmental Protection Agency and others have found that cyanide, lead and chromium — toxins that come from industrial pollution — flow through the rivers of Karachi, Pakistan's largest city, and its harbor contains more metals than any other major harbor sampled in the world. In Lahore, an estimated 97 percent of the industries using hazardous chemicals do not adequately treat their wastewater.
Pakistan's Environmental Protection Agency has established drinking water standards, and scientists are conducting more sampling to understand the threats. But, says the PCRWR's Rasheed, a lack of data, regulation and wastewater treatment facilities is making progress difficult.
What does the future hold?
The challenges Pakistan faces in managing its water resources go beyond the technical or scientific. "Pakistan is blessed with all kinds of resources, but the lack of adequate management of these resources and financial limitations make it hard to solve our problems," says Faizan ul Hasan, an engineer and deputy director of PCRWR.
Civil and political issues hamper Pakistan's water-improvement efforts. The conflicts that have arisen in the effort to combat terrorism make Pakistan a dangerous place to work on anything, including water, Taylor says. Pakistan has also long clashed with India over access rights to the Indus River system, and Pakistan has frequently accused India of violating their water treaty.
Furthermore, Pakistan's political structure has become unstable, and civil unrest is not uncommon. Potential conflicts over water allocations exist between provinces and neighboring countries, and the lack of consensus on a national water policy interferes with the development of infrastructure, such as dam projects. In some places, like Karachi, local factions monopolize needed water by delivering it only to those able and willing to pay. Parts of northern Pakistan are overrun with Afghani refugees and members of the Taliban. As these large populations move into the country, the strain on water supplies will grow and be exacerbated by the potential effects of climate change.
But there is reason for hope. History shows that the country has surmounted tremendous water odds before. In the past half century, Pakistan worked out the Indus Waters Treaty with India to allow continued access to critical canal and river flows, built the world's largest earthen dam and a related canal system to move irrigation water to needed areas, and implemented a control and reclamation project involving controlled water extraction that significantly lowered waterlogging and salinity in the Indus Basin.
"I was able to visit the labs in Pakistan in March, and I was very impressed," says Paranjape of the State Department. "They were very modern and well-organized; they've really figured out a system they can grow into. They had a professional excitement and great pride in the lab — it made me confident that the [State Department Biosecurity Engagement Program's] funds are being put to good use."
Pakistan's scientists are capable of "conducting a wide variety of water resources research, including irrigation, drainage, land reclamation, groundwater modeling, surface water modeling, water quality analysis, the use of geographic information systems and much more," says Steve Kemna, a USGS environmental engineer in Middleton, Wis., who has worked on Pakistan's integrated water database.
The database, known as the Pakistan National Water Resources Database System, should also prove to be a worthy investment. In the past, different agencies have kept water resources data in a variety of formats, making it difficult to analyze data within single projects or gain insight from historic data, much less share data among agencies. The database system has been developed to make that analysis and sharing much easier.
So where do things go from here? The database is operational and will be in Pakistan's hands by the end of the year. USGS and its Pakistani colleagues are working on a national water quality monitoring plan for the next several years, including a focus on arsenic and microbiological contaminants, and training on new sampling techniques. And Pakistan's scientists are also pushing ahead with plans to explore causes of arsenic in groundwater, to use biotechnology to control wastewater, to model the quality of water and more.
There is a lot more work to be done, but Pakistan's scientists have already seen local areas make great strides in how they manage water, a testament to the Pakistani people's ability to adapt and prosper. "Once we went to a very poor community to develop a water safety plan for their area, but we were all amazed to see a system [already] working there," Faizan says. "The people were willing to pay their share and were running their water supply and waste disposal system with their own funds and without getting any help from the government. They were very self-sufficient. This story is a reminder of the will of Pakistan's people to achieve their goal of sustainable development of their country."