Ice (Re)Cap: September 2018
by Sarah Derouin Friday, August 3, 2018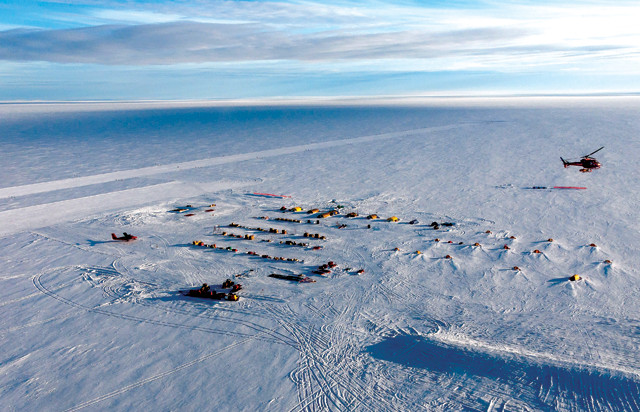 From Antarctica to the Arctic; from polar caps, permafrost and glaciers to ocean-rafted sea ice; and from burly bears to cold-loving microbes, fascinating science is found in every nook and crevasse of Earth's cryosphere, and new findings are announced often. Here are a few of the latest updates.
Previous studies of lead pollution throughout human history involved sparse data and limited age controls. Now, scientists have collected a subannual archive from a 423-meter-long Greenland ice core and are using this continuous record to estimate lead levels from lead-silver mining and smelting in Europe between 1100 B.C. and A.D. 800. When paired with atmospheric modeling, the ice-core data, published in a new study in Proceedings of the National Academy of Sciences, show lead pollution signatures from various European historical events, including imperial expansion and wars, which produced spikes in lead production, and major plagues, which caused declines in mining and smelting.
Thick sea ice around Antarctica can make winter sampling of Antarctic waters difficult. A group of scientists has discovered a novel way of measuring deep waters in the Amundsen Sea: seals. Partnering with the Sea Mammal Research Unit at the University of St. Andrews in Scotland, the team tagged seven southern elephant seals and seven Weddell seals with instruments that measure temperature and salinity. For nine months, as the animals dove for food, the devices monitored the water column and transmitted data via satellite. "We were able to collect much more information from the seals than all the previous ship-based surveys in the area combined," said Helen Mallett of the University of East Anglia, lead author of a new study, in a statement. The team found large seasonal differences, including a thicker, saltier Circumpolar Deep Water layer in the winter, suggesting that more melting occurs in winter than summer — an example of "reverse seasonality," the team wrote in Geophysical Research Letters.
The Pine Island Glacier is a major ice outlet for the West Antarctic Ice Sheet (WAIS). Warm water from the Antarctic Circumpolar Current has been melting the ice sheet from below, thinning the floating mass by about 5.3 meters a year for the past 25 years. Despite the melt, the Pine Island Glacier has barely retreated over the past several decades, with the position of the calving front remaining almost constant — until 2015, when a calving event caused the glacier to retreat 20 kilometers closer to shore, opening up previously uncharted waters. Now, researchers taking advantage of the ice-free waters have mapped the ocean floor and discovered the mystery of the stationary ice front: underwater mountains and ridges that acted as pinning points. The ice grounded on these underwater ridges, slowing its retreat, according to a new study published in Cryosphere. Researchers found that these pinning points can also push the overlying ice up, creating a ripple in the glacier's surface. Sometimes, these ripples can rift the ice, instigating an ice calving event like the one in 2015. The new bathymetry mapping will contribute to future WAIS modeling.
New WAIS surface mass-balance models based on satellite observations reveal that, between 1992 and 2017, the ice sheet lost 2.72 trillion metric tons of ice (plus or minus 1.3 trillion metric tons), which corresponds to an average sea-level rise of 7.6 millimeters (plus or minus 3.9 millimeters). In a study in Nature, researchers noted that annual WAIS melting increased by more than 100 billion metric tons (from about 53 billion to 159 billion metric tons) over the period studied, driven by warmer ocean waters circulating below the floating ice shelves that buttress the ice sheet.