Human-triggered landslides on the rise
by Mary Caperton Morton Thursday, November 8, 2018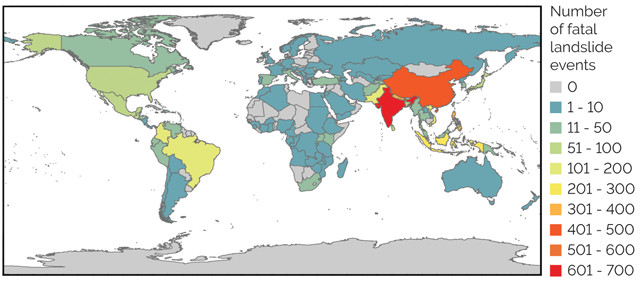 Between 2004 and 2016, an estimated 56,000 people were killed by landslides worldwide. A newly developed tool, the Global Fatal Landslide Database, reveals that, of the 4,800 fatal landslides over that 12-year period, more than 700 were caused by human intervention through activities such as construction, mining and digging.
"It was surprising to find clear trends within the database that fatal landslides triggered by construction, illegal hill cutting and illegal mining were increasing globally," said lead author Melanie Froude of the University of Sheffield in England in a statement.
In a study published in the journal Natural Hazards and Earth System Sciences, Froude's team reported that the trend occurs worldwide, with the highest concentration of human-triggered deadly landslides occurring in Asia, where 75 percent of the recorded events took place. The 10 countries with the most fatal landslides triggered by human activity are all in Asia, with India topping the list and accounting for 20 percent of the events. Countries in Central and South America, the Caribbean islands and East Africa were next on the list.
"Collecting these reports and organizing them into a database shows us where landslides are frequently harming people, what causes these landslides and whether there are patterns in fatal landslide occurrence over time. The database provides us with an overview of the impact of landslides on society," said co-author Dave Petley, also at Sheffield, in a statement.