How often should we expect volcanic ash clouds over Europe?
by Mary Caperton Morton Monday, May 15, 2017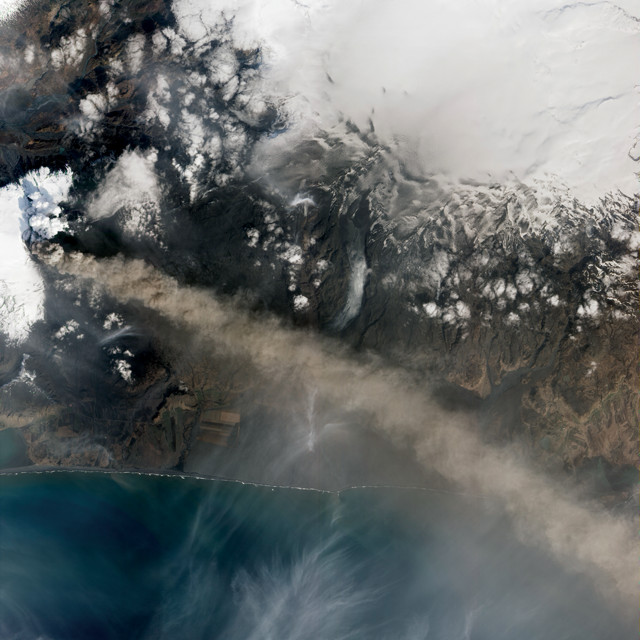 In 2010, an ash cloud from an eruption at Iceland's Eyjafjallajökull Volcano led to the most disruptive shutdown of North Atlantic and European airspace in aviation history. Given the high level of activity of Iceland's more than two dozen active volcanoes, how often are such events to be expected? A new study comparing volcanic ash records over the last 1,000 years suggests that fallout over Europe may be more common than previously anticipated.
Volcanic ash plumes can reach well into commercial airspace. When these plumes disperse downwind, the fine ash can threaten jet engines thousands of kilometers from the source volcano. The new study, led by Liz Watson of the University of Leeds in England, found that eruptions with a Volcanic Explosivity Index of 4 or more — Eyjafjallajökull's 2010 eruption was a 4 — pose the greatest hazard to flights.
Previous estimates, based on analyses of ash from past eruptions preserved in layers of peat and in lake sediments, suggested that Icelandic eruptions affecting Europe are likely to occur every 57 years, with a 16 percent chance in any given 10-year period. However, not every eruption is preserved in the geologic record, creating the possibility of gaps in the data.
Watson's team combined ash analyses with historical observations and computer modeling, concluding that at least one significant ash cloud over Europe is likely every 44 years — implying a 20 percent chance in a 10-year stretch. "Our results suggest that ash clouds are more common over Northern Europe than previously proposed and indicate the continued threat of ash deposition across Northern Europe from eruptions of both Icelandic and North American volcanoes," the team wrote in Earth and Planetary Science Letters.