Houston avoids worst of Ike; gas prices jump
by Brian Fisher Johnson Thursday, January 5, 2012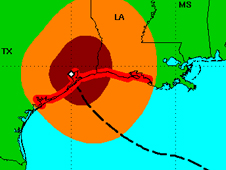 Hurricane Ike roared into southeastern Texas early Saturday morning as a strong Category-2 storm, with 170 kilometer-per-hour (110 mph) winds. But due to a last-minute veer to the east, the populous region between Galveston and Houston narrowly avoided the worst of the storm.
Meteorologists had feared the region would encounter the "dirty side" of Ike, a nickname for the hurricane's northeast quadrant that combines the speed of its overall northeasterly movement with the powerful winds of Ike's counterclockwise spin.
But Ike veered 80 kilometers (50 miles) to the east, says Joe Bartosik, a senior meteorologist at the private weather station WeatherBug, putting Galveston and Houston in the path of the hurricane's eye and out of the dirty side.
"Had the hurricane moved 50 miles to the west, as originally forecast, then the [wave] surge would've been five to as much as 10 feet higher," Bartosik says. "So while what happened in Galveston was certainly bad enough, it could've been far worse!"
Ike's storm surge was estimated to be several meters lower than predictions of 7.6 meters, but the waters were high enough to submerge Galveston's five-meter-high seawall, built after the devastating 1900 hurricane that killed 8,000 people.
Three deaths have been reported due to the storm, according to cnn.com. Damage to the power grid in southeastern Texas was extensive: By Saturday morning, 4.5 million people in the Houston area were without power. However, "the worst-case scenario that was projected before the storm, particularly in the Houston Ship Channel, did not occur,'' Texas Gov. Rick Perry said in a televised press conference today.
Ike's change of direction meant that areas to the east of Houston such as Port Arthur, Texas, and Lake Charles, La., did confront the dirty side. Storm surges of more than five meters were reported in the region, which houses several large oil refineries.
Nearly one-fifth of the nation's oil refining capacity was shut down following the storm, which caused gas prices to jump nearly 6 cents per gallon, according to the Associated Press. Crews and officials are continuing to assess the damage, injuries and loss of life in the region.