Highlights of 2011: New Zealand: After 8,000 aftershocks, when will it stop?
by Scott Burns Thursday, January 5, 2012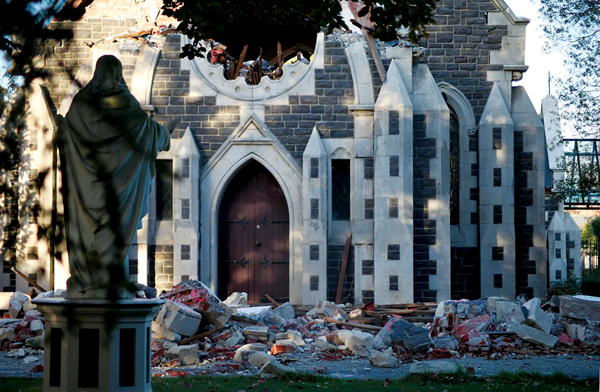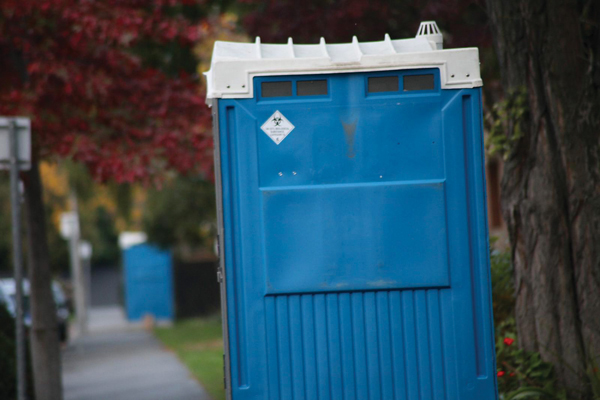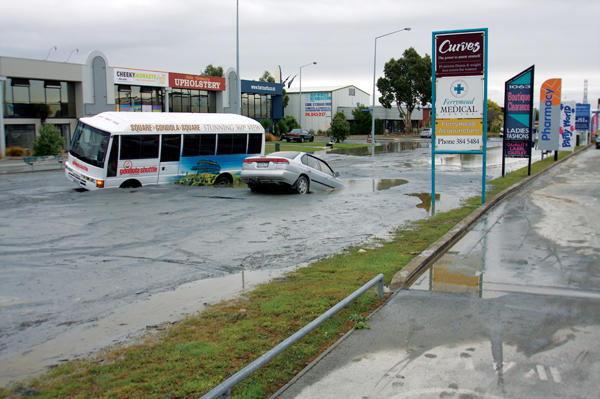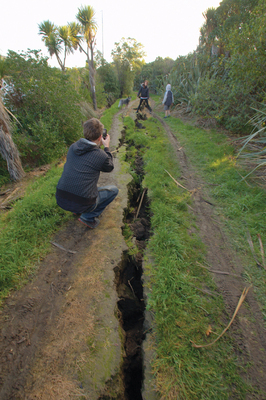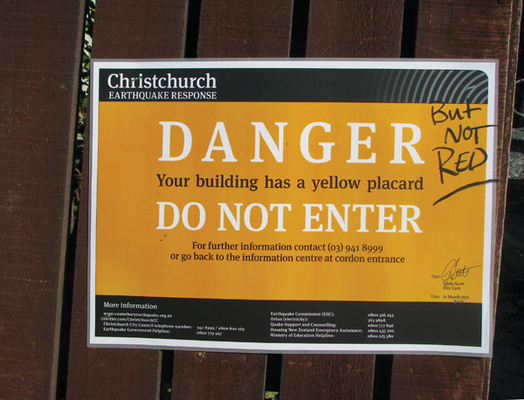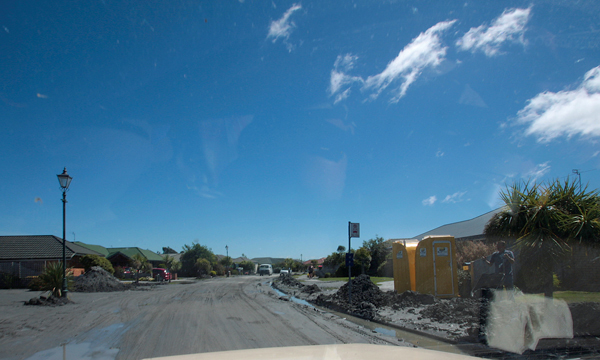 The untold story of life after a major earthquake in Christchurch, New Zealand
During the past year, many of the 386,000 inhabitants of New Zealand's second-largest city, Christchurch, have thought and said one phrase over and over again: "When will it stop?" Starting in September 2010, several major earthquakes and more than 8,000 aftershocks have rocked the city and region. Rebuilding has started, been interrupted, started again and been halted again. People have been living without water, sewer, roads, offices and homes for so long that it may be hard to remember what "normal" is.
When a large earthquake strikes, those of us outside the affected area watch the disaster unfold for a few days, and maybe we donate to the relief. Then we return to normal life. We don't realize that for people in the affected regions, whether rich or poor, in developed or developing countries, life is disrupted for a long time — years, in fact. The residents of Christchurch and other places that have experienced large quakes know, however, that a large earthquake is just the beginning of an incredibly long ordeal — and often an entirely new way of life.
That ordeal began at 4:35 a.m. on Sept. 4, 2010, when a magnitude-7.1 earthquake struck 40 kilometers west of Christchurch near the small town of Darfield at a depth of 10 kilometers. Many buildings were damaged or destroyed. Many homes lost electricity, as well as water and sewer service. The smell of sulfur filled the air. Liquefaction was extensive and water-saturated sandy silt deposits from the Canterbury Plains rose to the surface and filled up streets, yards and parks. The damage was significant, but no one was killed.
The city was prepared. Emergency responders had been practicing for this day for years, and they had contractors on the roads within 25 minutes of the shaking, checking the stability of bridges and blockages on the roads. Meanwhile, citizens banded together to meet the challenges of rebuilding. A University of Canterbury student, Sam Johnson, used Facebook to mobilize a "student army" of more than 900 volunteers to help neighborhoods remove liquefied sands that had filled the streets. Things were progressing, but the aftershocks continued.
Then, on Feb. 22, 2011, disaster struck again. A magnitude-6.3 earthquake hit, much closer to Christchurch, centered a few kilometers south of the city in Heathcote Valley. It was shallower, only 5 kilometers deep, and struck at midday when people were out-and-about or at work. The central business district of Christchurch was leveled, and 181 people were killed. The city was once again brought to its knees, but the human and financial costs were much greater this time. Many of the suburbs, especially to the east, were rendered uninhabitable. In total, this series of earthquakes has become New Zealand's costliest natural disaster and the second deadliest (after the 1931 Hawkes Bay earthquake).
The city faced huge problems, with those from the September 2010 quake further compounded by the Feb. 22 quake. Many water lines were broken. Power was knocked out. Telephone lines were down. Bridges were out. Roads had large cracks and fissures.
Following this quake — even while more aftershocks continued — initial focus was on finding survivors. Power was restored to most of the city within a few days. In the days and weeks that followed, damage assessments and the restart of the rebuilding process took over.
Inspection teams from the national Earthquake Commission and other organizations were busy checking homes and commercial buildings. They checked schools first, then homes and commercial buildings. Each received a tag: Red tags meant a building was uninhabitable and irreparable and had to be demolished; yellow tags meant a building was uninhabitable until repairs could be made; green tags meant a building was inhabitable as-is.
After the February earthquake, more than 1,000 commercial buildings failed inspection and had to be demolished, even some recently built structures. Much of the famous Canterbury Cathedral collapsed. Ten thousand homes had to be demolished and 100,000 homes, more than half of the homes in the city, had some type of damage. About 77,000 homes had to be cleared before people could return to them. Almost all brick structures built before 1950 were condemned. Many of the chimneys on homes were destroyed, which is a problem in a city where most homes are heated by fireplaces. The real problem is that these were not short-lived issues.
Rebuilding efforts are under way, but after each large aftershock, buildings are evacuated and checked again to see if they are inhabitable.
However, one of the biggest problems was that many sewer lines were broken. People could not take showers, use toilets or wash their clothes. This is the reality for the residents of Christchurch: More than a year after the first quake, some sewer lines still have not been repaired. The city has provided portable toilets on the streets, and encouraged people to build outhouses in their backyards — people bought in quickly to the idea and some neighborhoods even had outhouse decorating competitions.
Meanwhile, those with no sewer service had to find creative ways to wash clothes and take showers — often finding friends in other parts of the city with water and sewer service, or going to the city's central gymnasium (like a YMCA) that was opened up to everyone. If people had water, they still had to boil it. But for at least 25 percent of the population, water was delivered to drop-off sites. "Camping mode" — using an outhouse and boiling water to drink or use — has been home life for a fifth of the city's population over the past year.
Work life and other outside activities are changed too. Streets had to be cleared. Roughly 180,000 metric tons of sandy silt have been removed after liquefaction events. Many stores were destroyed, and others were closed due to lack of water, so figuring out which stores might be open for food has been a challenge. (Hairdressers, for example, at first had trouble reopening due to the lack of water.) People are working in shipping containers that were brought in to become makeshift offices for businesses — those that can reopen. Businesses have suffered mightily from being closed, and workers have lost wages and even jobs.
More than 50 churches have been condemned, so in the spirit of community, surviving churches have let other congregations use their facilities. Spreydon Baptist Church was one of the lucky ones: That church has been holding seven different services on the weekends for its congregation and the congregations of other nearby churches. Every service begins by noting the location of all exits in case of an aftershock. Retirement homes were condemned, so hundreds of elderly have been uprooted and "dispersed" to other parts of the country.
The city is rebuilding parts of all 91 sections of the town. In rebuilding, the first step is to color code each area based on the geology and soils and their response to the quakes. The red zone was where buildings would be demolished and not rebuilt. These were the main liquefaction zones. Orange zones needed geotechnical reports before rebuilding. Green zones were safe to repair structures. Some areas of the city with fairly new housing developments were classified as red zones — the geology under the sites dictated the classification. That led to the breakup of communities, especially in the eastern part of the metro area.
Meanwhile, the aftershocks continue. Two additional large ones (magnitudes 5.9 and 6.1) struck on June 13, an hour apart. To add to the misery, a large snowfall on July 23–24 dumped 30 centimeters of snow on the city. Local newspapers called it "the frosting on the quake."
By the end of August, the New Zealand government estimated that the total losses from the earthquakes had reached 17 billion New Zealand dollars (about $14 billion USD). That's equivalent to 10 percent of New Zealand's annual GDP. The Earthquake Commission will pay out about 6 billion of the damages to homeowners — the government agency covers the first $100,000 of damage to a home — and the rest of the losses are expected to be covered by private insurance companies.
The people of Christchurch were prepared — as prepared as people can be for the earthquakes. Still, they have been working for over a year to regain basic human necessities. And some will be waiting a lot longer.
Everyone living in earthquake zones must remember that a large earthquake marks the beginning of a new way of life. Aftershocks will last a long time, and restoration of normal life will take even longer.