Highlights of 2010: Offshore wind in Texas and the curious case of Massachusetts
by Sheril R. Kirshenbaum and Michael E. Webber Thursday, January 5, 2012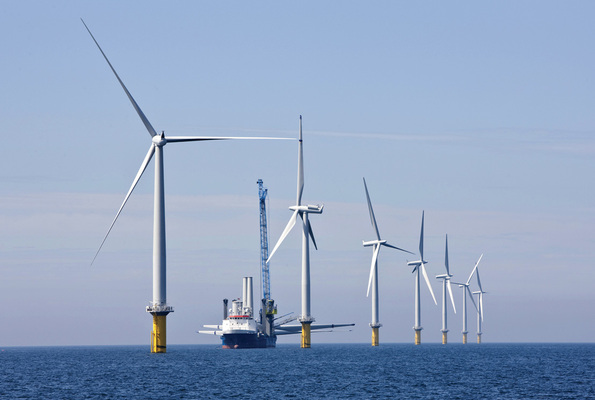 Humans have harnessed wind energy throughout history for milling, pumping and transportation — in a way you could say it's the "original" form of industrial energy. But only recently have we built massive, powerful turbines to convert that wind into electricity. As concerns about pollution, carbon emissions, resource depletion and energy security mount, wind farms are an increasingly attractive alternative for meeting growing energy demand.
Unlike many other "solutions," capturing the wind's potential emits no hazardous wastes or greenhouse gases, and is an inexhaustible energy source. A boom in development has also created thousands of new jobs during a period when most industries are letting workers go. In 2009 alone, the American wind power industry grew by 39 percent and now accounts for 2 percent of electricity produced in the United States. The total resource in the U.S. central wind corridor could satisfy our total demand for electricity. In the last year, although many renewable technologies have taken a hit as the global economy continued to struggle, wind power — especially offshore wind power — seemed to do all right.
Offshore wind projects are particularly attractive because coastal wind tends to blow more reliably than onshore winds, especially in times of greater demand, such as hot summer afternoons. In addition, a significant fraction of the U.S. population lives near the coasts, so coastal wind farms are close to demand centers, obviating the need for transmission lines that are hundreds or thousands of kilometers long. Ideal conditions involve relatively shallow water, low wave heights and high-speed winds. Development has been rapid, but not uniform because each state must work within its own governance framework to establish the institutions to support them. In 2010, things have progressed in intriguing ways in Massachusetts and Texas, two states with very different perspectives on energy.
Cape Wind moves ahead
In Massachusetts, the road to offshore wind power development has been long and arduous. Local and political opposition has bogged down the permitting process for years while misinformation continues to plague plans due to mismatched priorities of developers and residents.
Those seeking to build the wind farms in Massachusetts have set their sights on a region known as Horseshoe Shoal in Nantucket Sound, where scientific studies have shown physical conditions are ideal. Wind farms at this location would not interfere with bird flight paths, shipping channels or ferry routes. The sound is also in close proximity to homes so transmission would be relatively easy and inexpensive.
The wind farm would reside in federal waters, with a transmission line crossing state boundaries as well. When the U.S. Army Corps of Engineers compared Horseshoe Shoal to 16 other regions in New England, they reported that the sound would be economically, environmentally and technically superior to every other option. With that in mind, in 2001, Cape Wind Associates, the developers of the project, began planning to construct 130 turbines that would each produce up to 3.6 megawatts and sell electricity to consumers on Martha's Vineyard, Nantucket and Cape Cod.
If the project had been proposed elsewhere, an offshore wind farm might have been up and running by now. But Cape Wind Associates did not account for perhaps the most important piece of the puzzle: people. Early on, they mistakenly assumed local residents would embrace the offshore farm simply because it produces clean energy, improves air quality and creates jobs. They even predicted that the project would attract tourists as other offshore farms around the world have, boosting the local economy.
However, when the project started nine years ago, offshore wind was a poorly understood new technology with no predecessor in the U.S. (despite its success in other countries, such as Denmark). Poor efforts by Cape Wind to educate the local population on the project and its economic benefits opened the door for key wealthy residents to support efforts to stall Cape Wind's development, citing environmental, safety and aesthetic concerns as well as noise. Lawsuits to stop the permitting process were filed by fishermen, residents and local Native American tribes. Complicating matters was the absence of an established regulatory framework to manage the use of ocean space in federal waters. Additional pressure mounted from powerful politicians, who did not want to see a wind farm from their own backyard.
After more than eight years of federal review by the U.S. Department of the Interior through two administrations, Cape Wind was finally approved last spring by Interior Secretary Ken Salazar. More lawsuits were filed, but on Aug. 31 a Massachusetts Supreme Judicial Court ruled against community opposition and granted the Cape Wind energy project the permits to begin construction. Many community members have pledged to keep fighting, suggesting that the wind farm sets a dangerous precedent for private developers who want to open the area to drilling rigs or nuclear power plants. The wind farm is anticipated to be fully operational by late 2012 and is estimated to cost at least $2 billion. It will have the capacity to power about three-quarters of Cape Cod's residents — many of whom continue to fight Cape Wind Associates.
Oil rigs turn into wind farms
The story of wind off Texas' coast will be written very differently from that of Massachusetts. The Lone Star State already has the capacity to produce 10,000 megawatts of wind power on land, making it by far the nation's leading producer of wind energy. With dramatic irony, many tapped-out oilfields have been resurrected as wind farms. Today, if Texas were a nation, it would be the sixth-largest wind producer in the word.
Texas has a long-established positive relationship with energy — including wind. Residents have long been accustomed to large oil and gas rigs speckling the landscape, so they associate energy with income; wind farms just replace pump jacks with turbines and oil or gas leases with wind leases. Furthermore, in areas where wind farms have been established, residents have watched as property values increased from the farms, reminiscent of oil and gas booms — the difference is, unlike oil and gas, the wind won't run out after a few decades. Meanwhile, wind companies have already rejuvenated towns, restored abandoned buildings and brought wealth to communities. The wind farms have also helped Texas reduce its electricity prices and carbon emissions, and created thousands of jobs. As a result, turbines have been welcomed onshore, and viewed as a strategy for economic development.
Because of the positive experience with land-based wind farms, Texans have embraced opportunities to develop turbines offshore as well. Therefore, coastal wind will complement the thriving wind industry already established throughout the western part of the state.
There are other reasons why wind is flourishing, and will continue to, in Texas. Unlike in Massachusetts, developers in Texas do not face strong environmental opposition to turbines. Although a few lawsuits have been filed to halt development because of aesthetic concerns about views, Texas is a state that highly values private property rights. Because the wind farms are on private property in rural parts of the state, developers don't need a permit to build them, and so, in large part, the onshore projects have proceeded.
Also, by a fluke of Texas' unique history, the state controls offshore lands out to nine nautical miles (16.7 kilometers), whereas all the other states in the nation only control three nautical miles (5.6 kilometers). (Because Texas was once its own nation, it negotiated for these extra nautical miles as a condition of joining the United States.) The state can thus move forward more readily — with fewer permitting issues — than places like Massachusetts where parts of the offshore projects will be in federal waters.
Texas' long history of autonomy also comes into play in electricity transmission issues: There are three electric grids in the United States — East, West and Texas. Because Texas controls its own grid, it has the freedom to make the grid competitive (which it did, starting in 1999) and to build transmission lines for wind (which the state started in 2007). Consequently, wind can more readily compete in Texas than in most places.
Finally, in Texas, the permit process for offshore development only takes weeks to months, and the General Land Office has already issued eight leases covering more than 570 square kilometers along the Texas coastline from Port Arthur on the Louisiana border to Port Isabel at the Rio Grande. The first test turbine will be operational in 2011, and offshore wind farms are expected to produce more than 3,500 megawatts of power by 2020.
It appears that Texas will benefit from offshore development quicker than the traditionally "green" state of Massachusetts. Will other coastal states follow suit?