Hazardous Living: Maps, according to geologists
by Megan Sever Tuesday, August 25, 2015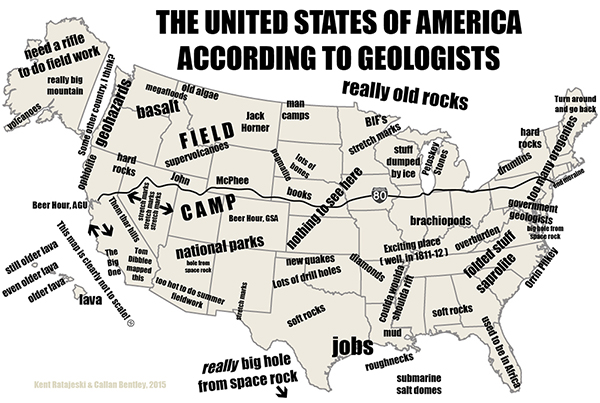 If you have geologist friends, you may have run across some humorous world maps on social media lately. These maps have garnered lots of attention — both positive and negative, the latter especially from those living in Kansas. Italian geologist Samuele Papeschi started the trend by making the map of "Europe according to a geologist," as seen from a European geologist's point of view. EARTH's cartoonist-geologist Callan Bentley (a professor at Northern Virginia Community College) and Kent Ratajeski, a geologist at the University of Kentucky, followed up with a map of the U.S. as seen by American geologists. Bentley then created South America (according to an American geologist), and Papeschi created Antarctica and Asia (both according to a European geologist). As Bentley and Papeschi told me, these maps are intentionally vague (especially Antarctica and South America) and humorous. As far as I know, no one has done an Australian or African one yet.
We found these maps amusing — the southeastern seaboard: "Orrin Pilkey"; the Rockies: "Field Camp" — but we also actually learned something from them (forgive me, but I didn't know there were ophiolites in Northern California). Because we enjoyed the maps so much, we figured we'd share them with you.
Keep in mind that these are meant to be tongue-in-cheek, so take them with that grain of, ahem, halite. In addition, as Bentley told me, they're from a hard-rock geologist's perspective, so when I jokingly asked him "why not show Florida as 'about to be underwater,'" he said that he doesn't think about sea levels (at least not in a professional capacity, as he is trained in tectonics); sea-level rise is more of a concern for climatologists, he added.
Shall we consider the gauntlet thrown? Climatologists, geophysicists, oceanographers, paleontologists: You're up!