Guatemalan landslide kills 33
by Alexandra Ossola Thursday, January 5, 2012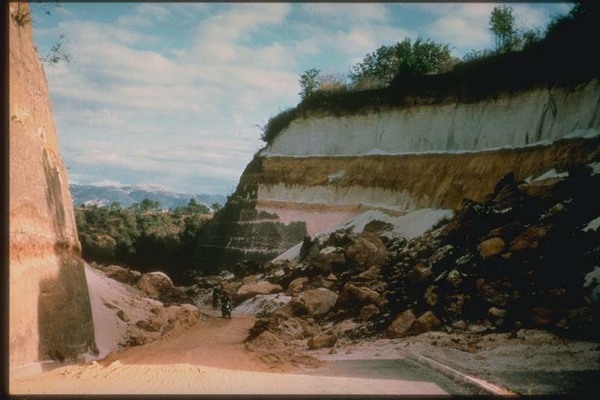 A landslide in northern Guatemala killed at least 33 people Sunday at about 10:30 a.m. local time. With between 40 and 60 people still missing, rescue attempts have been hampered by continual falling rock and threats of further landslides.
According to Guatemala's Prensa Libre, a landslide occurred in the same place the previous month; debris from that landslide had blocked a segment of road near Alta Verapaz, about 200 kilometers north of Guatemala City. On Sunday, about 140 people had left their vehicles to walk around it when they were crushed by a second landslide of approximately 10 tons of dirt and rock. The debris covered over a kilometer and a half of the road, Guatemala's Vice President Rafael Espada told Prensa Libre.
Sunday's landslide took place within the Polochic fault zone, a huge strike-slip fault system that runs the width of Guatemala. However, no recent earthquakes have been reported in the area, says Jeff Coe, a geologist with the U.S. Geological Survey's Landslide Hazards Program in Denver, Colo. Earthquakes can trigger landslides such as this one, and "rocks often tend to be weaker and more susceptible to sliding within fault zones," Coe says.
But earthquakes are not the only trigger for landslides: In Guatemala, landslides occur most often during the rainy season, from June to November. "The area tends to have thick soils and, during the rainy season, abundant rainfall," Coe says. "It also has very steep topography… the combination makes this area very susceptible to landslides."
A smaller landslide occurred Dec. 14 in the same region of Alta Verapaz, killing two people and prompting authorities to categorize the area as high risk. That event highlights how "a small landslide can be diagnostic of a bigger problem," Coe says. "It's not unusual to have several pulses of movement." More data will be needed, he adds, before scientists and officials can determine the cause of Sunday's landslide.