Getting There & Getting Getting Around Monti Sibillini National Park
by Callan Bentley and Alan Pitts Monday, October 15, 2018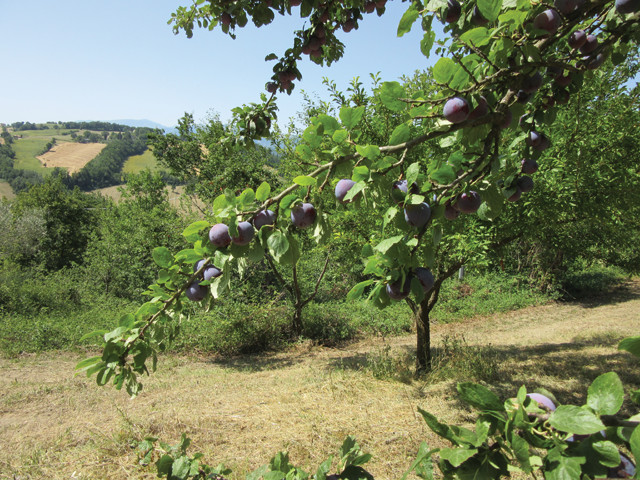 For those traveling internationally by air to Italy to visit Monti Sibillini National Park, flying into Rome's Leonardo da Vinci–Fiumicino Airport (FCO) is likely the best option. Florence is another option, but Rome is closer and hosts more flights. There are several routes into the park from different directions; all the entrance points on the western side of the park are a two-and-a-half- to three-hour drive east of Rome. Bus tour services run out of Rome, but the best way to reach the park is via rental car. Rental cars are plentiful, and the good news is that, unlike driving in some parts of Italy such as around Naples or in Sicily (which is not for the faint of heart), driving in the Apennines is much more like driving in the U.S. In this part of Italy, drivers are more courteous and generally adhere to road signage and lane guidelines. All countries have driving norms that are not immediately clear to foreign drivers, however. In Italy, to avoid scorn from your fellow drivers, it's important to remember to never pass another car on the right. Italians consider it a severe breach of driving etiquette.
On your flight to Italy, consider reading Walter Alvarez's 2009 book "The Mountains of St. Francis," which covers the geologic evolution of central Italy in the context of a memoir of his own career studying these rocks. Alvarez, together with his father, Luis, and other colleagues, were the first to detect the iridium anomaly at the famous end-Cretaceous boundary outcrop near Gubbio.
A wide variety of lodging is available in the vicinity of Monti Sibillini National Park. Luxury travelers can stay at the Palazzo Seneca in Norcia. There are also plenty of smaller cabins, hostels and bed-and-breakfasts that provide a more authentic experience in the Apennines. For a quiet and family-friendly stay in the foothills just outside the northern boundary of the park, we recommend Al Respiro nel Bosco bed-and-breakfast. The English-speaking owners, Luca and Matilde, will likely offer guests a glass of their homemade Verdicchio wine. And Luca operates a tour-guide service for those interested in an expert tour of the many different sights within the national park.
While visiting the Piano Grande/Castelluccio area, be sure to try the lenticchie e salsiccia. This very popular regional dish features locally grown lentils cooked together with local sausage and is an example of the simple, rustic culinary traditions that make this region so special. This corner of Umbria and Marche is also famous for its cured pork products, so you won't go wrong with any salami, prosciutto, lonza or other such products you find. Another local specialty not to be missed is the cold-smoked salami, ciauscolo (also spelled ciavuscolo), a soft, spreadable treasure unique to the mountains of Umbria and Marche and generally unknown throughout the rest of Italy. Order a panino (sandwich) with ciauscolo and pecorino cheese (made from sheep milk) and you'll instantly impress the local shop owners.
Although this region is best known for its pork products, the area is also a mecca for black truffles. A delectable dish you'll find at any osteria or ristorante is Tagliatelle al Tartufo — normally handmade fresh pasta with black truffles and olive oil.