Getting There and Getting Around Wyoming
by Mary Caperton Morton Thursday, May 24, 2018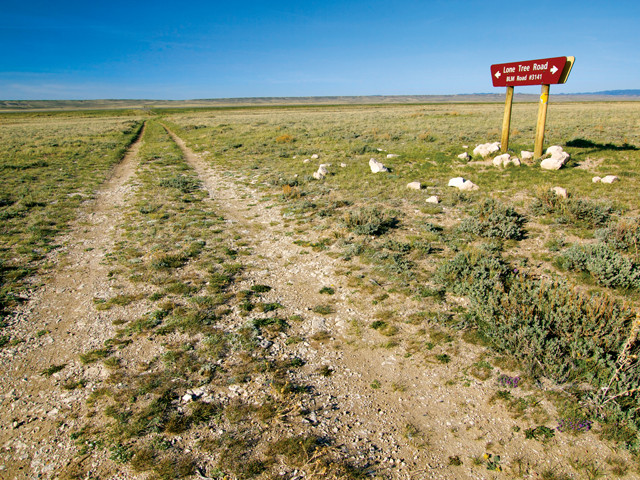 To drive all or part of this loop, fly into Cheyenne and rent a car. You can also fly into Denver, 160 kilometers south of Cheyenne. The loop runs from Cheyenne to Laramie, then up through Casper, Buffalo, Gillette and Devils Tower before returning back south to Cheyenne via U.S. Highway 85. Primitive and developed camping opportunities abound in Wyoming, and hotels, motels and other accommodations can be found in the cities along the loop.
To climb up to the notch in the red cliffs that gives the Hole in the Wall area its name, follow Interstate 25 to exit 249 for the TTT Road and drive 24 kilometers to Willow Creek Road. Turn right onto Willow Creek. Once you pass Willow Creek Ranch, follow Willow Creek Road another 9.5 kilometers to Natrona County Road 105. From here, you'll need a high clearance vehicle to reach the trailhead. Do not attempt this route if the road is wet. The trail to the notch in the cliffs is a moderate eight-kilometer round trip.
To visit Outlaw Cave, drive west from Interstate 25 on Route 190 toward Barnum for 24 kilometers, then turn south on Bar C Road. After driving through several unlocked gates that must be opened and closed by hand, the road passes through the boundary of the Middle Fork Management Area. Past this point, if you don't have a high clearance vehicle, you'll need to park and walk up the road about three kilometers to the Outlaw Cave campground. The trail down to the cave starts from the campground and drops down into the Powder River Canyon. The cave is cut into the bank on the same side as the trail, but you won't see it until you're right underneath it; it's completely hidden from the rim.