Getting there and getting around the Whitsundays
by Terri Cook and Lon Abbott Monday, August 24, 2015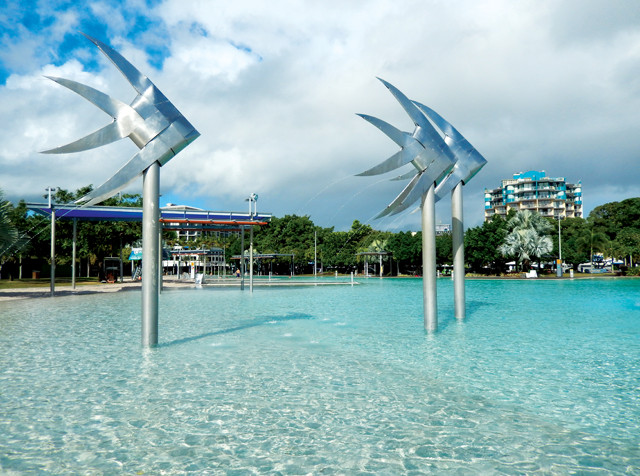 The gateway airports to the Whitsundays are on Hamilton Island and near Proserpine on the mainland. Neither hosts direct flights from the U.S., but both connect to Sydney and Brisbane, Australia's primary international arrival points, as well as Cairns, the most popular access point to the Great Barrier Reef. From Proserpine, Whitsunday Transit can transport you to accommodations throughout the region.
Distances in Australia are vast; imagine doubling Texas and adding California and Maryland, and you'd have an area roughly the same size as Queensland alone. Airlie Beach, the fun-loving gateway to the Whitsundays, is twice as far from Brisbane as it is from Cairns, so if you'd prefer to rent a car at one of the airports and drive yourself (on the left side of the road, mind you), you're better off doing this from Cairns.
Once in the Whitsundays there are many ways to explore the chain's 74 islands. Many visitors base themselves out of Airlie Beach, a relaxed town of 3,000 people with a good selection of restaurants, services and accommodations, including campgrounds. Alternatively, you can fly directly to the resort on Hamilton Island, island-hop via Cruise Whitsundays or — budget permitting — charter your own boat (Whitsunday Escape specializes in "bareboat" charters, which come without a skipper). If you'd rather while away the hours lazing on a quiet beach, Island Transfers can transport you between Airlie Beach and one of several remote campsites, including the one on Whitehaven Beach.
Local tour operators offer a wide range of day trips, including to Whitehaven Beach. Many outings include snorkeling or diving. Ocean Rafting includes a few extras like the short but sensational hike up to the fabulous viewpoint of Hill Inlet beach and a zippy raft ride back. If you aren't heading to Cairns to experience the Great Barrier Reef, be sure to take one of the full-day outings from Airlie Beach to the outer reef to see the vibrant coral and abundant sea life. Operated by Cruise Whitsundays, these trips include transportation to a floating platform, lunch, and snorkeling, diving and glass-bottomed boat tours. Airlie Beach operators also offer sea kayaking, skydiving, HeliReef and croc-spotting tours.