Getting There and Getting Around Washington, D.C.
by Callan Bentley and Ken Rasmussen Friday, November 9, 2018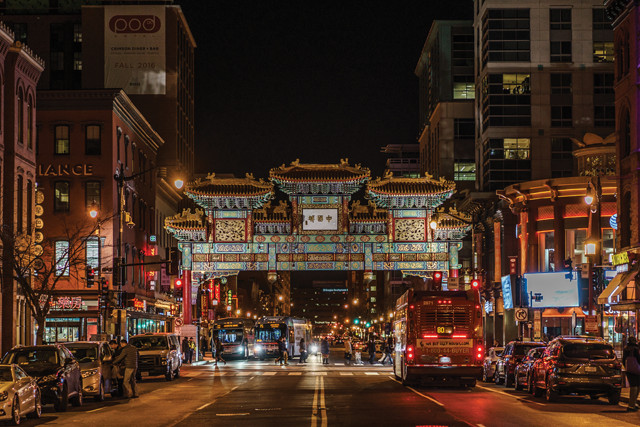 Washington, D.C., is served by three major airports: Ronald Reagan National Airport (DCA), Dulles International Airport (IAD) and Baltimore-Washington International Thurgood Marshall Airport (BWI). Reagan National is closest to downtown and is conveniently served by the Metro subway system. For those with window seats, flights in and out of DCA offer views of the Piedmont-Coastal Plain boundary along the Potomac River, in addition to exciting views of the National Mall. Dulles is a roughly 45-kilometer drive west of downtown D.C. in the exurbs of Northern Virginia. Window-seaters approaching IAD can spy quarries excavating rocks from the Culpeper Basin, as well as the Blue Ridge Mountains to the west. Flights to BWI, about 50 kilometers north of downtown D.C., offer views of the Chesapeake Bay and its tributaries draining the Coastal Plain. The airport is served by a commuter train that runs to Union Station, Washington's downtown rail hub adjacent to the U.S. Capitol. Automobile traffic in and around the city is often heavy, and a cab or rideshare from IAD or BWI into the city can take upwards of an hour. Rail service aboard Amtrak into Union Station, which is on Metro's Red Line, may be a convenient option for some visitors to D.C.
Driving around D.C. can be confusing for visitors (and locals), as Pierre L'Enfant's design has gridded roads (some one-way and some on which the traffic flow changes direction depending on the time of day) intersected at different angles by diagonal thoroughfares; sometimes these intersections feature large traffic circles, and sometimes not. It's easy to get disoriented. D.C.'s Metro system is a clean, affordable and mostly reliable alternative to driving. Visitors can purchase and load a SmartTrip card at any Metro station. SmartTrip cards also work on Metro buses and the local bus lines in Northern Virginia, which are inexpensive and reliable. There are also a host of bike-sharing and scooter-sharing services located around town.
Downtown D.C. is used to high-volume tourism, so hotels and quality restaurants abound. Neighborhoods around the National Mall offering a variety of dining options include Capitol Hill, Chinatown, Foggy Bottom and Gallery Place. The rooftop of the former Hotel Washington (now the W Washington) is a great spot for a drink and a sunset view over the White House. Old Ebbitt Grill, meanwhile, is a historic landmark that's great for wonky people-watching. There are also many craft breweries around D.C. with associated brewpubs for beer aficionados.