Getting there and getting around Shetland
by Callan Bentley Tuesday, December 27, 2016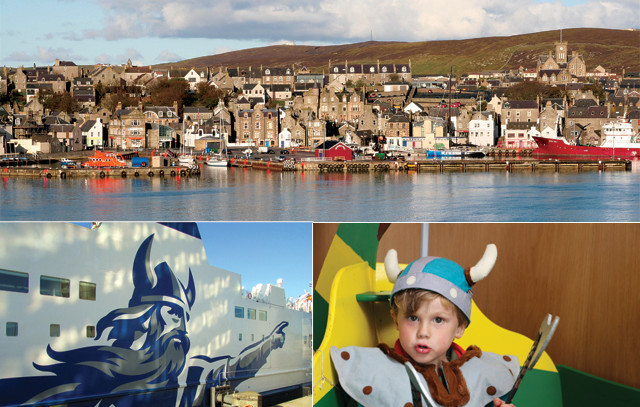 Getting to the Shetland Islands requires taking a ferry from mainland Scotland. Ferries are very comfortable and well-run, with a smooth overnight passage from Aberdeen to Lerwick. We took that route up to Shetland, and a different route — to the Orkney Islands — on the way back. The schedule running from Lerwick to the town of Kirkwall (in Orkney) is less ideal, arriving in the middle of the night, but the local hotels are used to their guests dropping in at midnight.
I visited Shetland for four days last July and found that the long days and short nights allowed for great geologic sightseeing, spiced with a dash of archaeology. Most visitors base themselves out of Lerwick or Scalloway, where there are good dining options and lodging ranging from hostels to high-end hotels. We stayed in a bed and breakfast in Tingwall (from the same Norse derivation as "Thingvellir" in Iceland). Outside of these two towns, the options are more limited, although there are smaller hotels and B&Bs even up in Unst and Fetlar. For those interested in fixing their own meals, there is a grocery store in the town of Voe, roughly a 25-kilometer drive north of Lerwick. If you base your trip out of Lerwick or Scalloway, you can easily visit all of the sites mentioned here in day trips.
In summer, temperatures are akin to those in Maine. In winter, temperatures drop a bit but are still temperate. The short winter days — only about six hours of daylight a day due to the islands' location at 60 degrees North latitude — may present a problem for long hikes. But the Viking fire festival called Up Helly Aa, which occurs in late January to celebrate the end of the Yule season, combined with opportunities for aurora viewing, doubtless make compelling reasons for a visit to Shetland in the colder months.
I recommend hiring a local guide to show you around the islands. It costs about £100 (about $125) for a day, but in my view, that's a bargain to get the insider knowledge about the best places to see certain features. You can get to the easy, obvious spots like Eshaness and St. Ninian's Isle tombolo on your own, but you'll need a guide if you want to find hidden dikes of spherulitic felsite. Our guide provided a vehicle and covered the cost of ferry tickets as part of the tour. The Geopark Shetland can recommend someone.