Getting there and getting around peninsular Greece
by Terri Cook and Lon Abbott Monday, January 11, 2016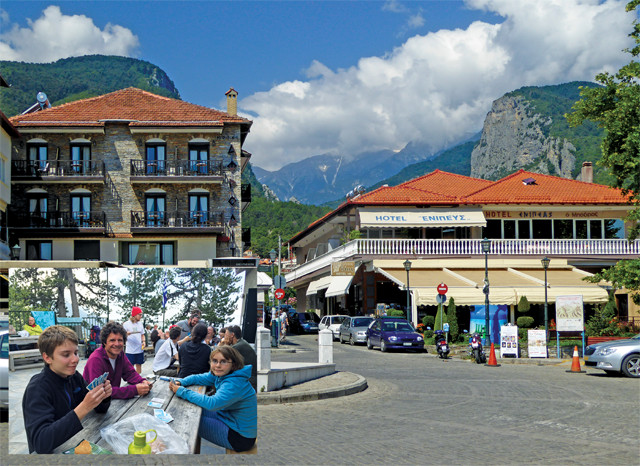 Northern Greece has two major airports: Athens and Thessaloniki. Athens International Airport offers the most options, including seasonal daily nonstop flights from New York, Philadelphia and Montreal, as well as flights to most European cities.
In Athens, few hotels provide transport from the airport to downtown. The most convenient options to get into the city are the Metro, which is inexpensive and efficient, or a taxi. While sightseeing in Athens, it's best to walk, or to rely on public transport or taxis. Outside of Athens, transportation options are much more limited. Delphi can be visited in one day from Athens via a tour, public bus or by renting a car. Kalambaka, the city below Meteora, and Thessaloniki are accessible by train from Athens, but you cannot book tickets until you're already in the country.
By far the most convenient option for exploring the sights in northern Greece, including Mount Olympus, is to rent a car, although one-way drop-off charges can be very expensive. You can poke along scenic roads or, if you can afford the tolls, you can traverse the country in just a few hours using the motorways. Rental cars are widely available at both airports and in multiple city locations. Road signs are posted in both Greek and English.
Accommodations across northern Greece span a wide range of quality and price. Private apartments often offer a better value than hotels; Booking.com lists hundreds of reviewer-rated properties across the region. In Athens, Plaka is a fun and convenient area to stay.
The section of the E4 trail that ascends Mount Olympus begins in Prionia, located near Litochoro, just west of the E75 motorway (and the railroad line) that links Athens and Thessaloniki. Of the seven refuges (huts) on Mount Olympus, the Spilios Agapitos is the largest and most convenient for tackling Mount Olympus' lofty summit. Advance reservations are necessary, especially during the bustling summer season. In addition to bunks, the hut offers hearty meals, snacks and beverages for surprisingly affordable prices.