Getting there and getting around Patagonia
by Callan Bentley Tuesday, August 22, 2017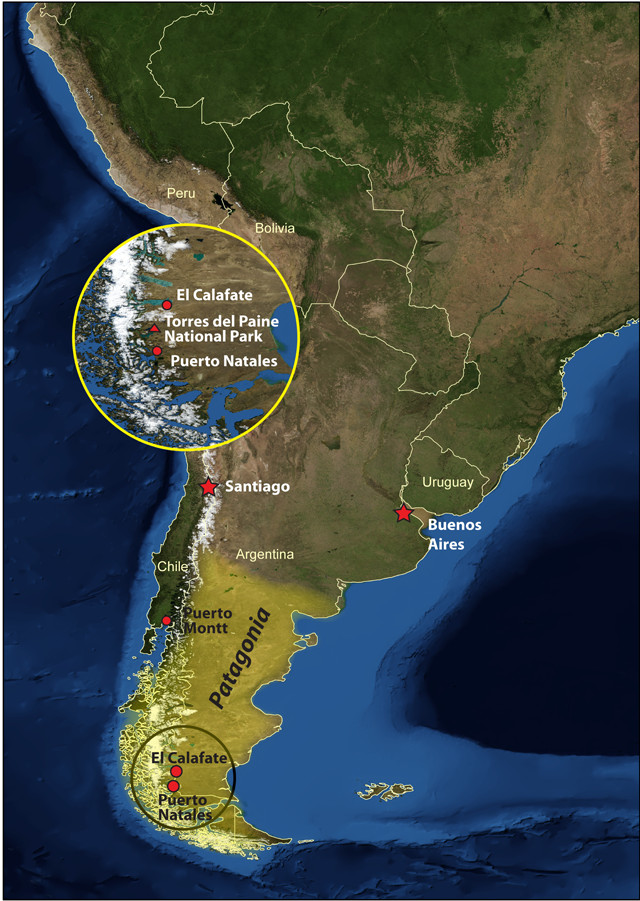 There are many ways to get to Patagonia. I would have preferred to get there by following Charles Darwin's route, aboard a replica of H.M.S. Beagle (especially considering that last year was the 200th anniversary of his birth). Sadly, the modern school calendar dictated that I move more quickly: Two weeks was all I had to work with.
Several airlines fly from the United States to Chile. My girlfriend and I flew American Airlines to Santiago and took a local carrier down to Puerto Montt. The Navimag ferry was our passage to Puerto Natales, about three days one way. If you're not the seafaring type, you can fly to Puerto Natales instead. There is air service between Puerto Natales and El Calafate, Argentina, aboard Aerolíneas Argentinas, or you can take the bus. The bus is far cheaper, though four hours longer, but it's a pleasant enough way to get a sense of the empty pampas to the east of the Andes. Bonus: On the bus, you will see the lesser rhea in dozen-bird flocks out in the plains. At the end of our trip, we flew from El Calafate to Buenos Aires, and from there back to the United States.
You could also run this trip in reverse (from Argentina to Chile) and everything would be just as stunning.
Patagonia is a great place to explore and discover, and the area is no stranger to visitors. A sturdy tourism infrastructure has evolved, including everything from hostels to pizza joints to regular bus schedules. We were very pleased with our hostel accommodations: Some were B&B style, others were very high-energy and youth-focused. With a little bit of Spanish and a confident attitude, it all works out.
Links:
Navimag ferry service from Puerto Montt to Puerto Natales:
Torres del Paine National Park:
http://www.torresdelpaine.com/ingles/
Patagonia, Chile, travel guide: