Getting There and Getting Around Nebraska
by Terri Cook and Lon Abbott Thursday, May 24, 2018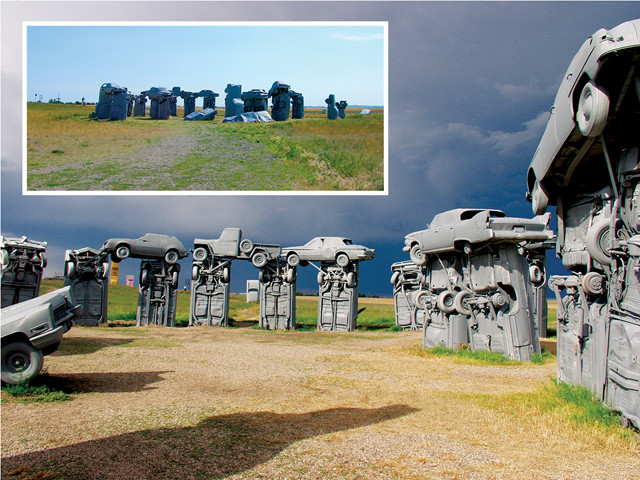 Many visitors to western Nebraska's geoheritage sites will probably be "driving through" en route to more famous sites, such as Yellowstone, Grand Teton and Rocky Mountain national parks to the west or the Badlands and Mount Rushmore just to the north. But commercial air service is available directly into Scottsbluff, Neb., as well as Cheyenne, Wyo., and Denver, Colo. (about 160 and 320 kilometers away, respectively). A car is necessary to get around the area; you can rent one at any of these airports if you choose to fly in. If you're driving through the area on Interstate 80, which runs from New York to San Francisco, you'll pass through the Nebraskan panhandle.
The panhandle's largest town is Scottsbluff, an excellent base to explore the area, with numerous gas stations, hotels, restaurants and convenience stores. Smaller towns offer a more limited range of services, and camping is available in half a dozen private campgrounds and state facilities.
If you have more time to explore, check out some of these other sites of interest to geo-travelers.
Oglala National Grassland's Toadstool Geologic Park, a remote wilderness of mushroom-shaped buttes that hosts the longest-known fossil trackway from the Oligocene.
Hudson-Meng Bison Bonebed, the largest in situ bonebed of its kind in the world.
Museum of the Fur Trade, located on the former site of the American Fur Company trading post, a few kilometers east of Chadron.
Wildcat Hills State Recreation Area, where fossils of 44 different species have been found in the ancient bend of a fast-moving, 23-million-year-old river.
Fort Mitchell, where troops safeguarding the Emigrant Trails were based.
Horse Creek Treaty Grounds, where more than 10,000 Plains Indians gathered to sign the Fort Laramie Treaty of 1851, which guaranteed safe passage for emigrants on the Oregon Trail.
Pioneer Trails Museum, which interprets Courthouse and Jail Rocks.
Carhenge, a unique automotive replica of England's Stonehenge that was recently named America's second-wackiest attraction by TripAdvisor.