Getting there and getting around on the John Muir Trail
by Kate Prengaman Tuesday, February 18, 2014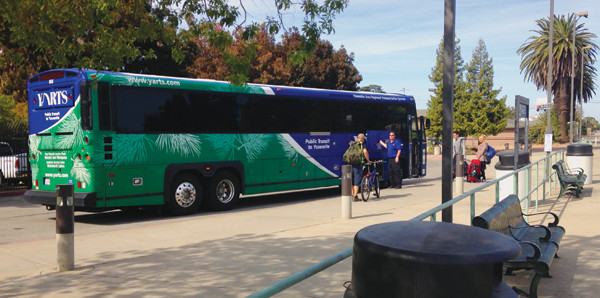 The best time to hike the John Muir Trail (JMT) is late summer. To plan your own adventure, start by reading up on the trek at various websites such as the Pacific Crest Trail Association's JMT trail site (www.pcta.org/discover-the-trail/john-muir-trail/) and in guidebooks. Then, when you know when you want to go, procure your permits. To start in Yosemite, you can apply for permits through their lottery over the winter or get a permit for an alternate trailhead like we did. Or, if you have enough time to be flexible, you can try to get some of the first-come, first-served permits available every day. Most people do the 340-kilometer trip in two to four weeks, depending on their hiking pace and interest in exploring side trips or taking days off.
Getting to the trailheads can be a challenge. Regional airports in Merced and Fresno are a couple of hours' drive away from Yosemite Valley; bigger airports in San Francisco, Oakland and Sacramento are four to five hours' drive. If you start at Mount Whitney and head north, your closest major airport is Los Angeles International, which is about four hours' drive away. Las Vegas is about the same distance; Bakersfield is slightly closer.
If you can't rope friends into dropping you off and picking you up at your trailheads, there are a few public transportation options, but most are pretty slow. To get to Yosemite, you can take the Greyhound to Merced, and then switch to the Yosemite Area Regional Transportation System (YARTS) to get into the park. A bus line makes daily trips up the east side of the Sierras, which you can take north to Mammoth Lakes and then catch the YARTS back to the Yosemite front country or to Merced. From the Whitney trailhead, known as Whitney Portal, you can hire a private shuttle to the town of Lone Pine, where you'll find motel rooms, showers, burgers, beer, cell phone reception and the bus line.
It's tempting to plan ahead and book a hotel room to be waiting for you at the finish line, but it's also nice to have some flexibility in your schedule, in case you find yourself moving at a slower pace or need to take a day off for some reason. Many hikers make a vague plan for their return to civilization, but refrain from making specific reservations so they have some wiggle room on the trail.