Getting There and Getting Around India
by Subrata Purkayastha & Jordan Clary Friday, June 1, 2018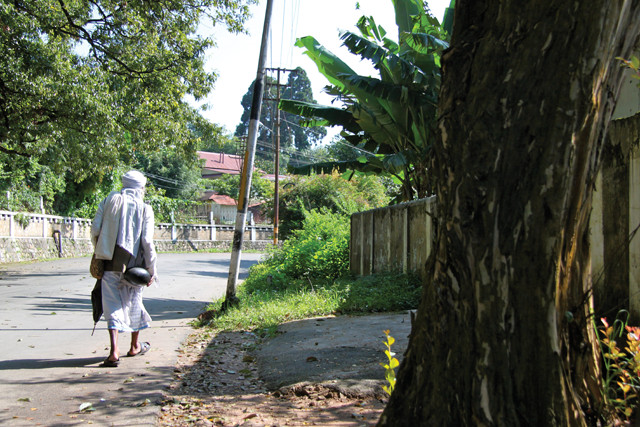 Shillong is connected to the rest of India by regular flights from Kolkata (Calcutta) that fly into Gopinath Bordoloi Airport in Guwahati, roughly 100 kilometers from Shillong. There is also a small airport at Umroi about 40 kilometers from Shillong with flights from Kolkata on certain days of the week. The nearest railway station is in Guwahati, which is well connected to all the major cities of India. Travel by bus is also an option.
Meghalaya's Department of Tourism is a good resource if you plan to visit this area. You can find a comprehensive list of tour operators, suggestions for lodging and dining, and a list of festivals and events at the tourism department's website, http://megtourism.gov.in/welcome.html.
Thanks to the Lonely Planet guidebooks, the living bridges and the small village of Nongriat are now part of the international backpacker trail. Tourism has benefited the 150 inhabitants of this village economically, and visitors are likely to meet travelers from around the world in Nongriat's small guesthouse. Although there is a well-worn path to the village, the way is steep and probably not for beginning hikers or people whose health would make the long trek difficult.
To visit Nongriat and the living bridges, you can take a bus or taxi to the small town of Cherapunjee and hire a guide. A reliable, local guide is Bansan Kupar Lyngdoh, who can be reached at bkupar@yahoo.com or on Facebook.
Meghalaya has a temperate climate, influenced by the southwest monsoon and a northeast winter wind. The southern slopes of the Khasi Hills receive the heaviest rainfall in the world.
Visitors will probably want to be vaccinated for dengue fever. Malaria is also a risk throughout India. Anti-malaria pills are readily available in India at a lower cost than in the United States. However, the best prevention is probably mosquito repellent and long sleeves.