Getting there and getting around Guatemala's Volcan Pacaya
by Michael Steel Thursday, September 15, 2016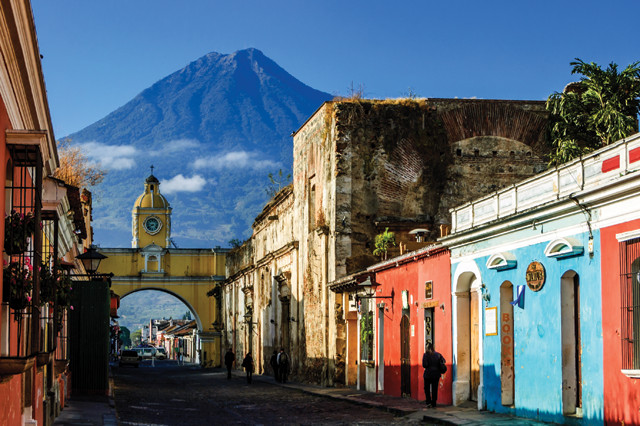 Visitors to Guatemala fly into Guatemala City's La Aurora International Airport, the country's only international airport. From there, I recommend traveling to the beautiful old colonial city of Antigua, a UNESCO World Heritage site that offers some of the best of Guatemalan culture, from restaurants and bars to architecture and shopping. It is common for travelers to share a shuttle bus from the airport to Antigua — expect to pay about $10 for the 60- to 90-minute journey.
Antigua offers a variety of accommodations, ranging from $7.50 for a bed in a basic shared-dorm in a hostel to $50 to $70 per night for a luxury hotel suite. I suggest checking www.hostelworld.com or Booking.com to find the most suitable hotel for your needs. I cannot recommend Antigua enough for anyone who loves to travel; it is a beautiful city without the fast pace you might expect. Pacaya is less than an hour from Antigua and the drive to the volcano is much more relaxing than the drive from Guatemala City. Wherever you stay, I'd recommend hiring a tour company to get you to, and up and down, Pacaya. It is possible to travel to Pacaya without a tour, but I'd advise against it. The experience is just easier not having to worry about logistics and safety.
The tour company I went with — Guatemalan Adventure (http://guatemalanadventure.com/pacaya-volcano-tour) — was superb; I was picked up and dropped off at my home and the English-speaking guide was friendly and knowledgeable about Pacaya and Guatemala in general. A reputable tour will run you between $20 and $75, depending on what's included. You can even do an overnight trek and sleep on the volcano in tents provided by the tour company.
Although known as the "land of eternal spring," Guatemala typically has two seasons: summer and the rainy season. October to May is customarily considered the "summer" season in Guatemala as it rarely rains and the weather is at its hottest toward the end of that period. The rest of the year, the weather is still humid and warm , and downpours can be intense, especially when hurricanes come through. The best time to visit is between January and March, as the weather is not at its hottest and you're likely to miss the rain. For the trek up Pacaya, T-shirts and shorts are suitable, perhaps with a light windbreaker at the summit, but wear the most comfortable (and sturdy) sneakers or hiking boots you can.
Guatemala has some outstanding cuisine. If you decide to stay in Antigua, there is an excellent food truck near the central market that sells ceviche made from fresh raw fish and shrimp cured in citrus juices and spiced with ají or chili peppers. Ask the locals where to eat ceviche and I can all but guarantee you'll be directed to this truck. Also be sure to find shucos — Latin hot dogs, served with avocado, mustard, ketchup and spices. Wash them down with a local beer while you enjoy putting your feet up after the hike.