Getting there and getting around Gotland
by Naomi Lubick Wednesday, March 16, 2016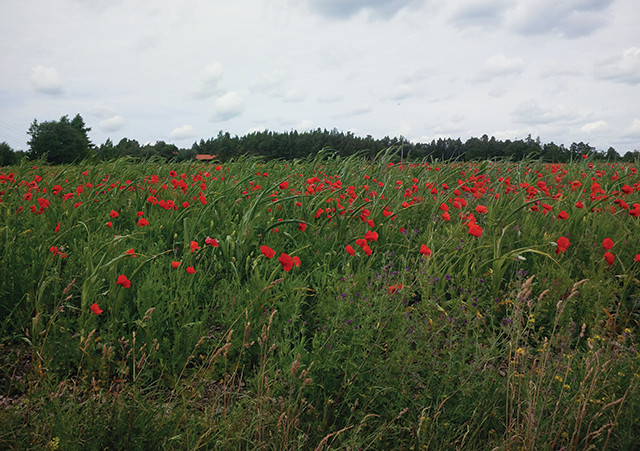 Useful websites for planning your trip to Gotland include the island's own commercial sites: Gotland.com and Destination Gotland. Start there for everything from travel to entertainment events, and for ideas on what to see.
Scandinavian Airlines (SAS) offers 45-minute flights from Stockholm's Arlanda airport to Visby starting at 800 SEK ($95 U.S.) in the winter. Beware, though, as prices jump substantially in the summer — a round-trip in July will run more in the neighborhood of a few hundred dollars.
Traveling to Gotland around Almedalen in July is a mistake; summer bookings need to be made months ahead, for flights especially, and in order to save money on housing. (Swedes make their summer vacation plans far in advance!)
If you opt for the ferry to Gotland, check Destination Gotland for timetables and book your tickets there. That includes train or bus travel from Stockholm for a little extra in the same ticket. You can also rent a car at Arlanda and drive to the Gotland ferry (you'll pay extra to take the car aboard), or rent a car in Visby (see the Gotland websites for rental agencies at the Visby airport or at the ferry pier).
Bicycles can be carried on commuter trains and the ferry to Gotland as checked luggage, and biking around Gotland and Fårö is a popular way to see the islands. Visby, a walkable city that can be explored on foot in a day, makes a great home base; and from there, buses will take you to the small towns and beaches if you're looking to see more of the island. If you'd prefer not to be beholden to the bus schedules, however, a car might be the better option.
Visby and many of Gotland's smaller towns have a range of accommodations, from inexpensive hostels to luxury bed & breakfasts — book early if you choose to go in summer, especially August when Medeltidsveckan, or "Middle Ages Week," is held. Major chains have hotels in Visby, but check out booking.com and other sites for the smaller hotels or if you choose to stay in a smaller town. Also consider staying in privately owned apartments or "stugas": check AirBnB and Sweden's version of Craig's List, blocket.se — as always, proceed with caution in your bookings on these sites.
And for a true Swedish/geologist experience, consider camping: You can rent trailers or pitch your own tent at many sites around the island. Start looking at the camping pages of gotland.net or Destination Gotland. Be aware of Sweden's tradition of allemansrätten, the "right of public access," which allows you to camp anywhere for a night or two, as long as you don't disturb the property owners.
Other things to keep in mind are that the tourist maps are pretty good for getting around, particularly if you don't have mobile phone coverage while traveling in certain parts of the island. You can buy a SIM card at a 7-Eleven or Pressbyrån, or online before you leave home.
Also, you can pick up just about anything in the way of food at Swedish supermarkets (ICA, COOP and Hemköp are the main chains), but alcohol is sold only in the state-run Systembolaget, which tends to have limited hours and is closed on Sundays.